Behind the Lens with Photographer Eric Piasecki
August 20th, 2013
Odds are if you have a design book or magazine sitting on your coffee table, you've seen the work of photographer Eric Piasecki. He contributes regularly to Architectural Digest, Elle Decor, and House Beautiful. The Cape Cod native is based in New York City, along with his wife, painter Lisa Piasecki, and their Jack Russell, Truro.
I first met Eric when he was assigned by Architectural Digest to shoot a project I did in Chicago (AD June 2013). It was during the time that I was looking for a photographer to shoot my first book, After spending two days with him and seeing the results of his work, I knew that I had found the person that I wanted to do the photography for my first book, An Invitation to Chateau du Grand-Lucé, (Rizzoli New York, October 2013.) Eric has the most amazing ability to capture light in any setting. I would watch as he shot a dimly lit room and wonder how could one ever get a photo in that darkness? When we would run over to the monitor to see the photo he had just shot, I would gasp to see the luminous sunlight that he had found in the shadows of the room. Eric understands the subtlety of light unlike any other photographer with whom I have ever had the pleasure to work. I call him "The Light Whisperer."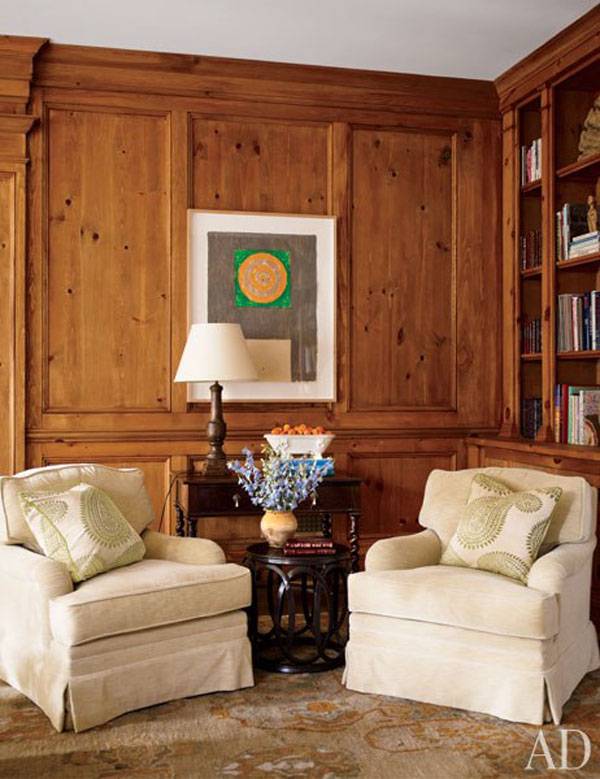 Believe it or not, Eric took this photograph in Chicago using only moonlight! Image by Eric Piasecki for Architectural Digest
Photographing a 45,000 square foot chateau and eighty acres of gardens in four seasons would seem a daunting task for anyone. Yet from the beginning, to the end of our project, Eric remained calm, composed and a true joy to be around. Because much of the book was shot during the longest days of the year (think about the sun setting at 10:00PM) and we were trying to capture evening dinner parties outside, we had some very long days. Throughout it all there was not a moment that was not glorious. I couldn't be happier with the photographs for the book, and can't wait for you to see them. In the meantime, here's a chance for you to meet the man behind the lens.
What sparked your interest in photography?
I first took a course in High School and have been pretty much hooked since then.
Did you go to school to study photography or did you learn on the job?
A bit of both. I actually began college in a liberal arts program, but after trudging through a New England campus in winter for a couple of months I knew I made a mistake! I wanted to get out in the world and do things and found a two year photography program in sunny Florida, the Art Institute of Fort Lauderdale. After admittedly spending more time on the beach then I should have, I came away with a firm understanding of the basics and what types of photography careers existed at the time. My real education of the business began while assisting more established photographers. After landing in New York soon after graduating, I got lucky to assist a few very talented interior and still life photographers for about four years. Those experiences were incredibly helpful when I began my career.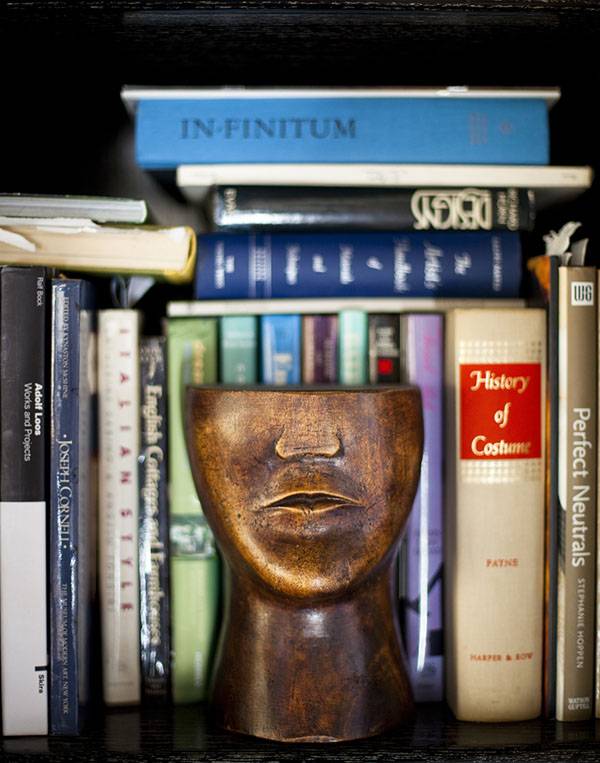 Image by Eric Piasecki
What are some of the notable projects, books, ad campaigns you have worked on?
The last few years I have focused primarily on editorial work and books. I've had the great fortune to collaborate with some very talented designers and architects on their monographs. Over the last year or so books have been published with my photography on Steven Gambrel, Juan Montoya, and Thom Filicia. This fall will be very exciting as Tim's book on his incredible Chateau du Grand-Lucé will be published, along with ad campaigns for Wolf/SubZero and Knoll and an upcoming book on design firm Cullman & Kravis.
Cover photo by Eric Piasecki
Where in the world has your photography taken you? Any favorite locations?
I've been really lucky to be able to combine my passion for photography with another great love of mine, travel. We've been on assignment in Russia, many countries in Europe, Brazil, and all over the US. My favorite place in the world the last 8 years or so has been Patagonia. It is magical and full of adventure.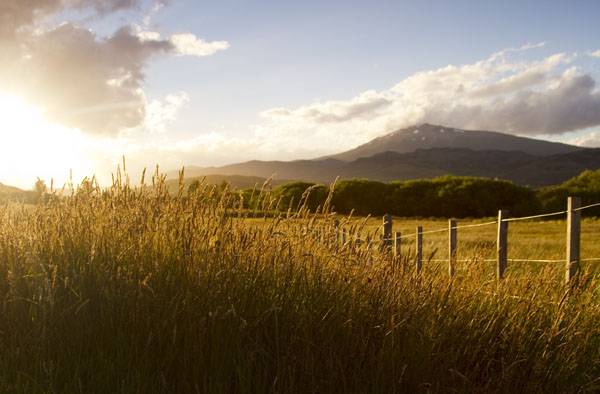 Chile by Eric Piasecki
You've photographed a wide range of design styles. Are there challenges inherent to each one? Do you have a particular favorite?
I like the variety a lot. It keeps things interesting. In the end you are always striving to come up with images that are timeless. I particularly like spaces that are layered and feel lived in, whether that is more modern or more traditional in design.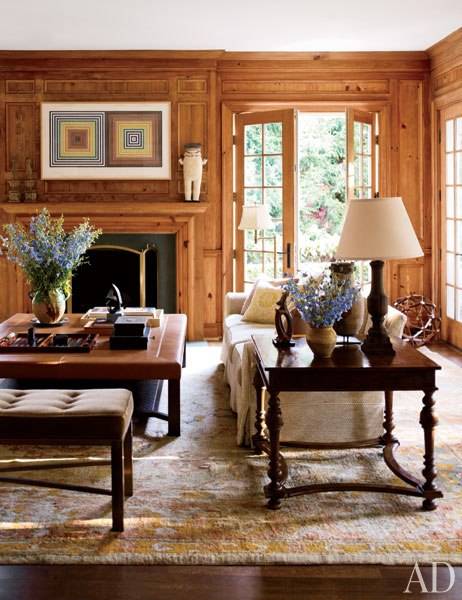 A Jasper Johns print hangs with an ancient Peruvian figure in a library design by Timothy Corrigan. Image by Eric Piasecki for Architectural Digest
When sizing up a shot, what's the first thing you focus on?
Light, it's all about the light. If it isn't right in the morning, we'll wait till the afternoon and wait some more until the magic happens. Rooms, no matter if they are designed to the gills or spare always have different feelings as a result of the light or lack thereof.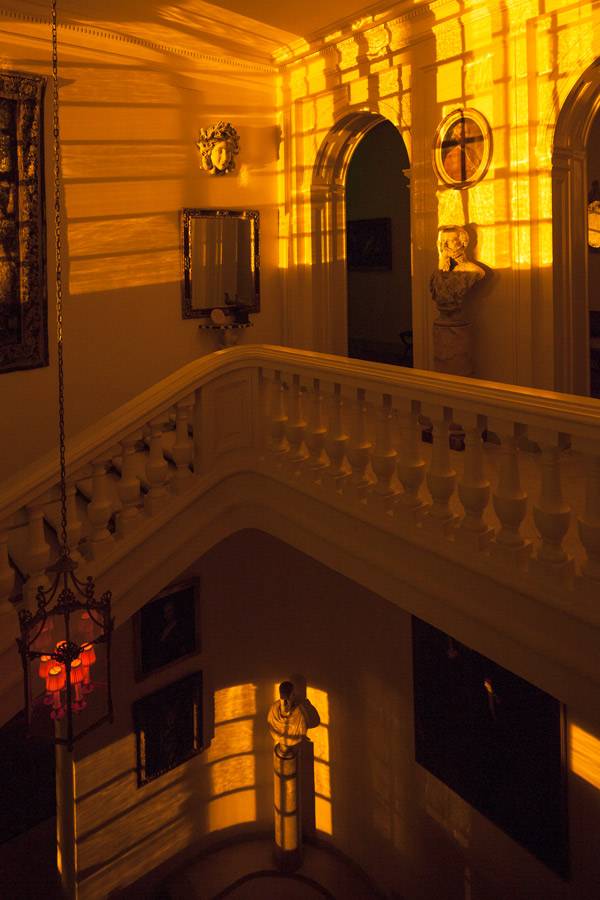 Eric captures the shadows and moonlight at Chateau du Grand-Lucé
What was your big break?
I'm not sure if there was ever a big break, more a steady progression. Working hard, caring a lot about each shot, and being a perfectionist have all helped me along the way.
What is the most challenging shoot you've been on?
Well shooting an entire Chateau was certainly one of the biggest challenges yet! And one of the most rewarding from a creative standpoint. Everywhere you would turn was something beautiful to focus on, and keeping it all interesting and surprising all the way through was so much fun.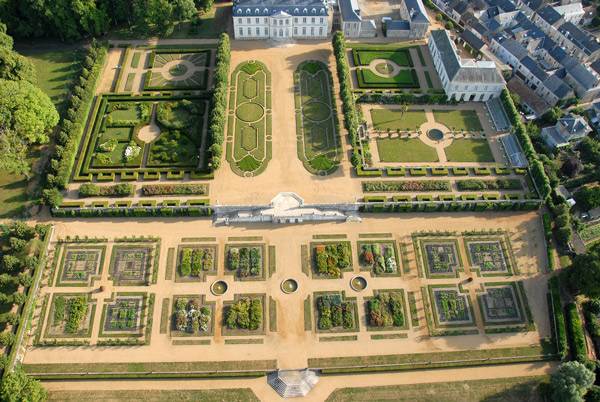 Partial arial view of Chateau du Grand-Lucé
Any dream projects or locations on your wish list?
I do love documenting entire projects, from the home, to the gardens, the surrounding area, to all the people involved along the way. It would be fun to hopefully stick around for a long time and visit and photograph as many places as I can!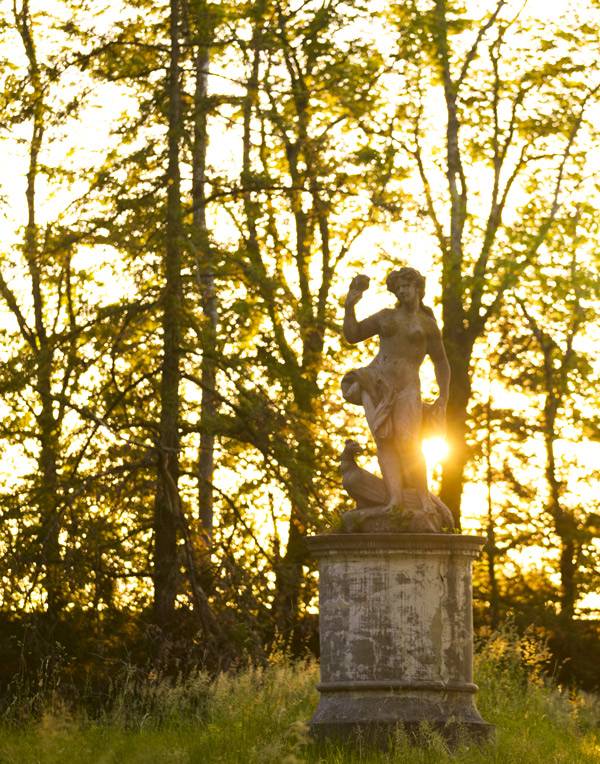 Eric rises with the morning sun at Chateau du Grand-Lucé. Image by Eric Piasecki
Do you have a favorite camera? Lens?
I loved my Pentax 67 system when we were still shooting film. Unfortunately that was the only system you couldn't convert to digital. Now I use a digital medium format system which I like a lot. I also love my Canon with a 50mm lens on it, super versatile and pretty much captures things just as you see them. It really forces you to think about composition and light.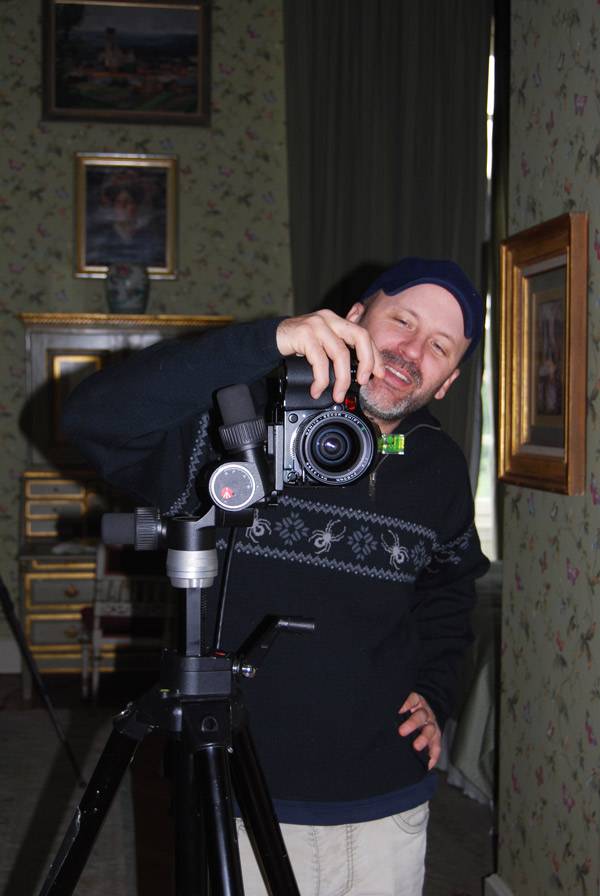 Eric with his camera at Chateau du Grand-Lucé
Do you have a favorite photograph that you've shot?
That is a tough one. I always end up with favorites from every shoot. Certain images stick in my mind; the Astor library designed by Albert Hadley before it was removed, the breakfast room at Chateau du Grand-Lucé in the morning light, a particularly dramatic landscape in Patagonia in the evening light. I could go on and on!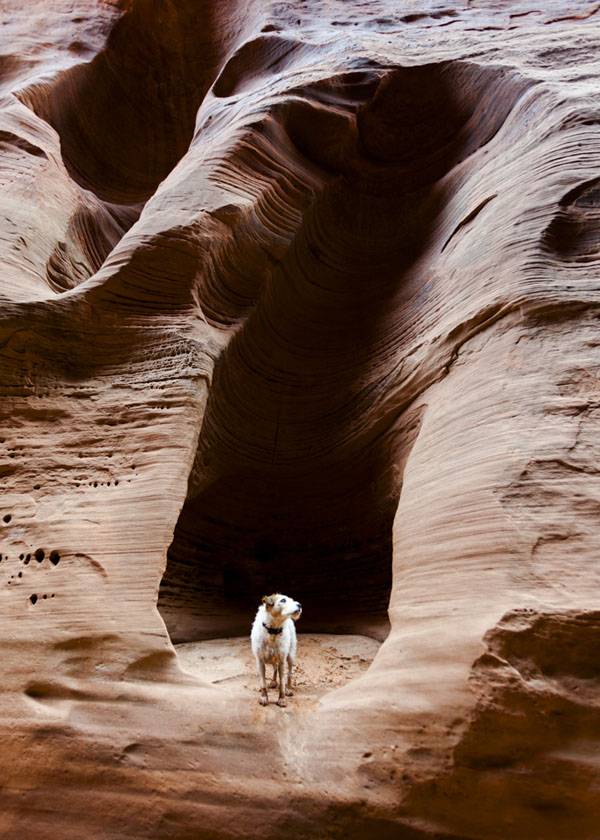 Eric's dog Truro's favorite photograph. Image by Eric Piasecki
Is there a photographer that has most inspired you?
I look at tons of books and magazines all the time, both contemporary and the past masters. I know they all have an influence on how I see things, how to light things. You can always tell the ones who care deeply about what they do and it's something I've tried to emulate in my own work.
Between interior, product and natures shoots, which category do you love most and why?
It is always the most fun when you can do it all in one shoot. In the end it's about telling a story, and the inside and outside, small and grand moments all have their place.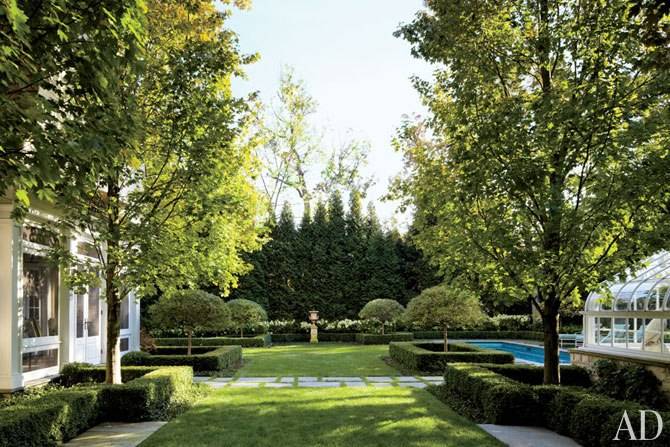 Chicago cottage by Timothy Corrigan. Image by Eric Piasecki for Architectural Digest.
You've worked with several of the top shelter magazines. Do they each ask for a distinct style or do they let you have creative freedom?
I don't try to figure out what they are thinking so much as collaborating with the editor/designer/stylist to make the rooms look as good as amazing as they usually are. You may adapt here and there to capture something important to a particular magazine, but in the end it's all about making the viewer want to "be there".
Cover images by by Eric Piasecki
What's next for you?
I have some new personal projects I've been working on here and there the last couple of years which I will continue to develop. You do need to continue to push oneself, keep the juices flowing so to speak.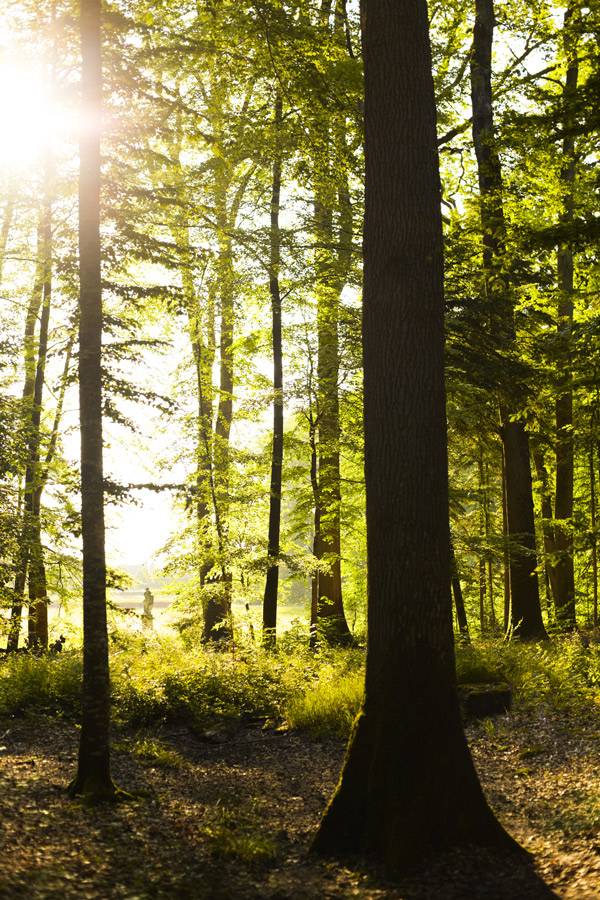 "..continue to push oneself..." In the woods at Chateau du Grand-Lucé. Image by Eric Piasecki
Best piece of advice you ever received about photography?
The best advice are usually the clichés you hear, but over time you begin to realize how true they really are. Keep looking, more importantly keep shooting, and most important don't be afraid to try something new.
Any advice for novice and upcoming photographers?
It's a changing and quickly evolving business. Be a hard critic of your work, think of why you chose a certain viewpoint, and most of all keep shooting!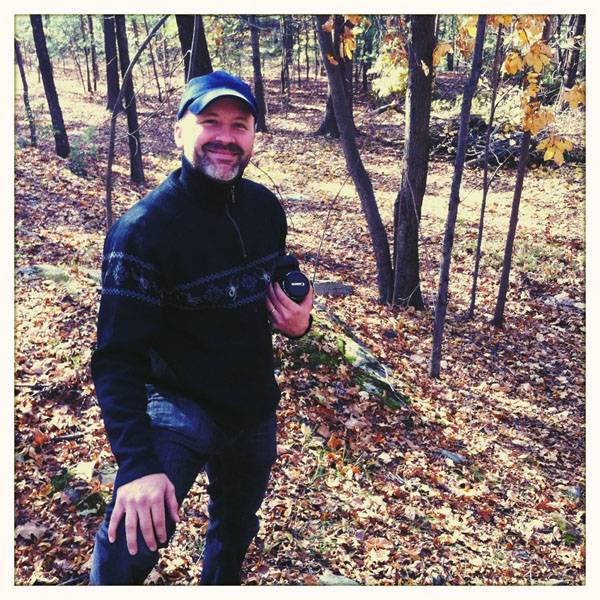 Thank you Eric for sharing your great answers and beautiful photography with us!
You might also enjoy: Behind the Scenes of Our Winter Photo Shoot