Maison de Luxe - Part II
December 13th, 2011
The
Maison de Luxe
show house at the historic Greystone mansion in Beverly Hills is now in full swing. For those of you unable to attend, here are some photos of the grand entry and upper & lower landings that I designed. Full coverage of the show house will be featured in the upcoming issue of
Luxe interiors + design
magazine.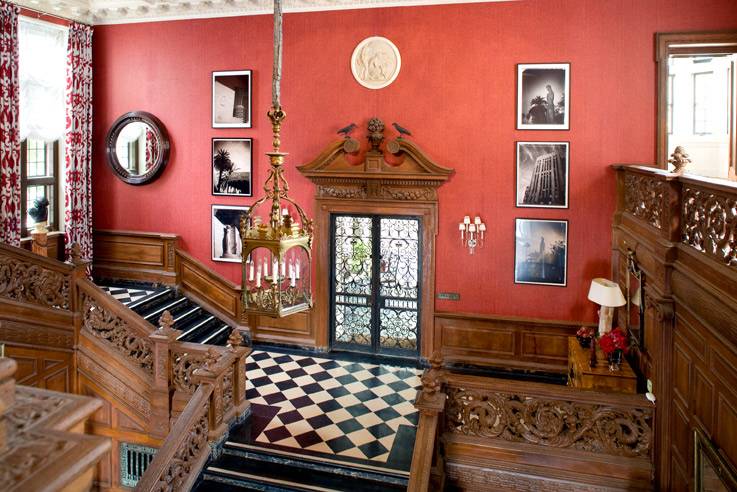 Because the architecture of the house is a little heavy and forboding, and because the grand entry hall is one of the first things anyone experiences of the house, I decided that the entry need to feel warm and inviting. The former wallpaper was silver, and while lighter in color, it created a cold stand-offish feel. I chose the strong red
Phillip Jeffries
wallpaper, because it is so warm and blends well with the dark wood paneling throughout.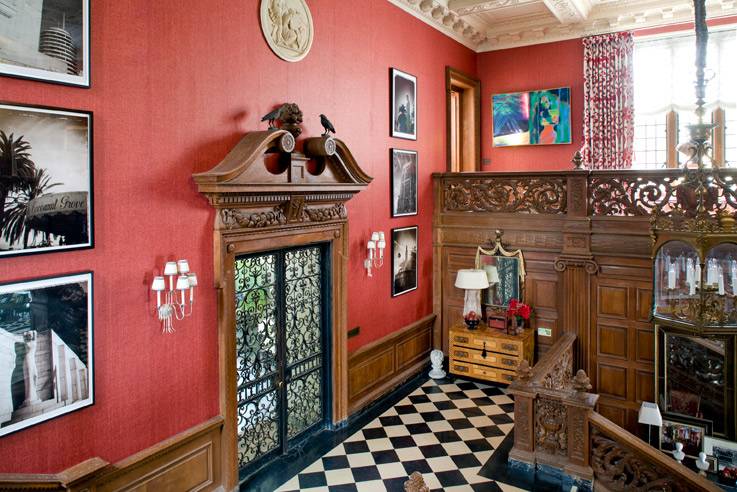 I purposely mixed classic and more contemporary pieces to create an interesting blend of attitudes. The old Hollywood black and white photographs are by the talented
Jim McHugh
. Commode, lamp and accessories from
Timothy Corrigan Antiques
.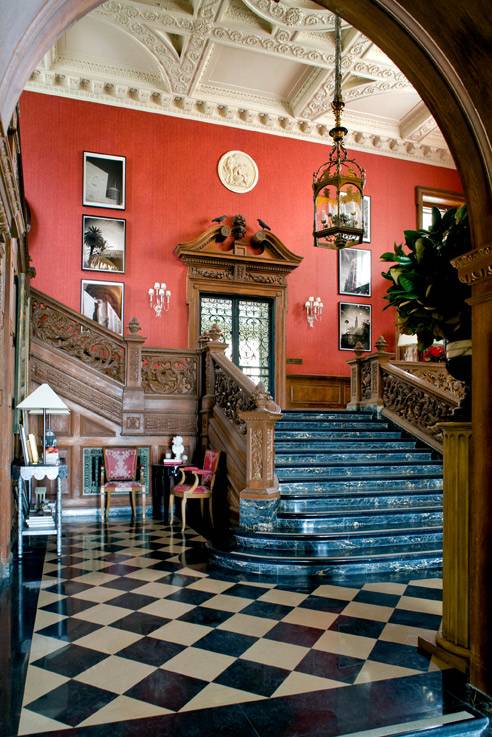 The pair of antiques chairs are from
Timothy Corrigan Antiques
.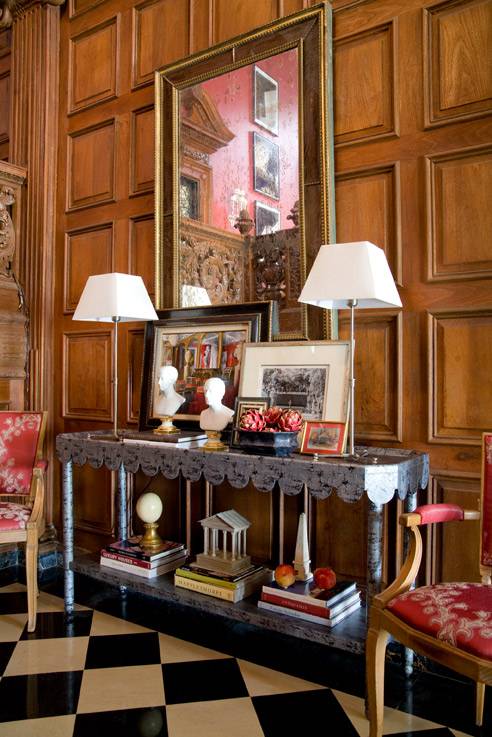 A custom designed console table from
TC Home
.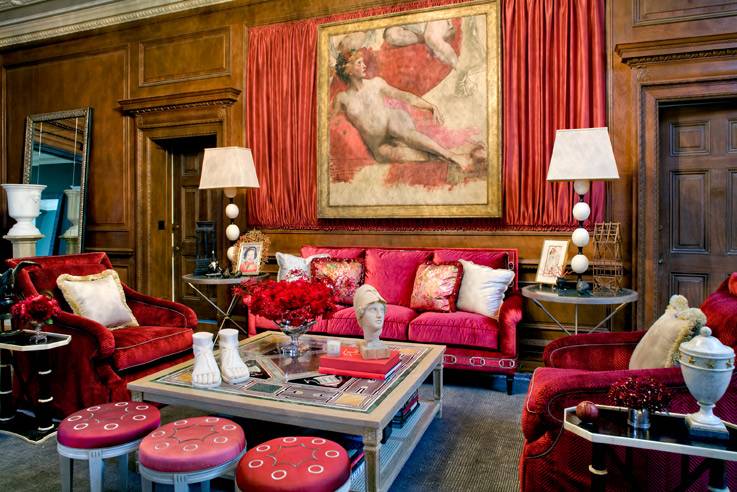 Custom pieces include the wool and metallic rug, which is part of my upcoming
Stark
collection. The embroidery on the sofa and stools, are all hand done with sterling silver thread. The luxurious fabrics used throughout this space are by
Chrisopther Hyland
. The coffee table is from the
TC Home
collection. Not seen in this photo, is a dramatic orb light fixture from
J.F. Chen
. All of the flowers in my areas are from the uber-talented
Eric Buterbaugh
.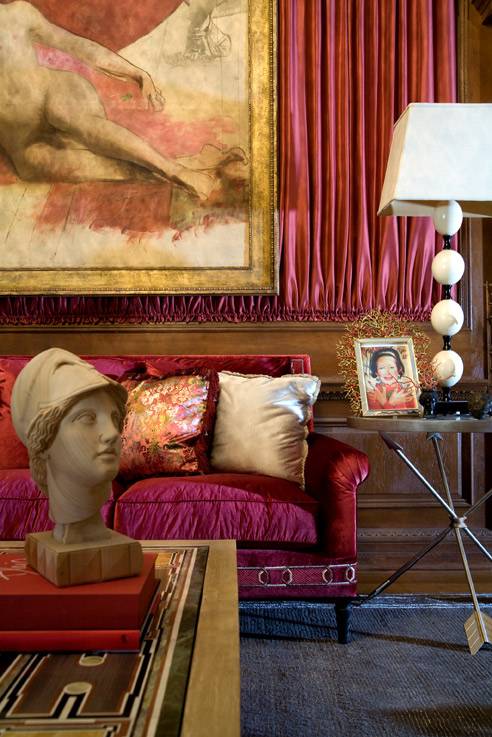 The
arrow side tables
are from my TC Home collection, and were generously made for the showhouse by
Murray's Iron Works
.
Ostrich Egg Lamps
from TC Home. The space itself was inspired by Diana Vreeland's New York City all red living room,which she called her "garden of hell". Her photo is in the coral picture frame.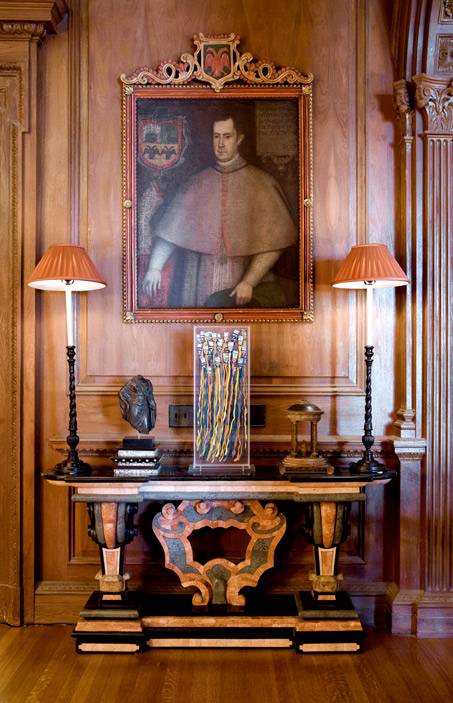 This marble console table, painting and accessories are all from
Timothy Corrigan Antiques.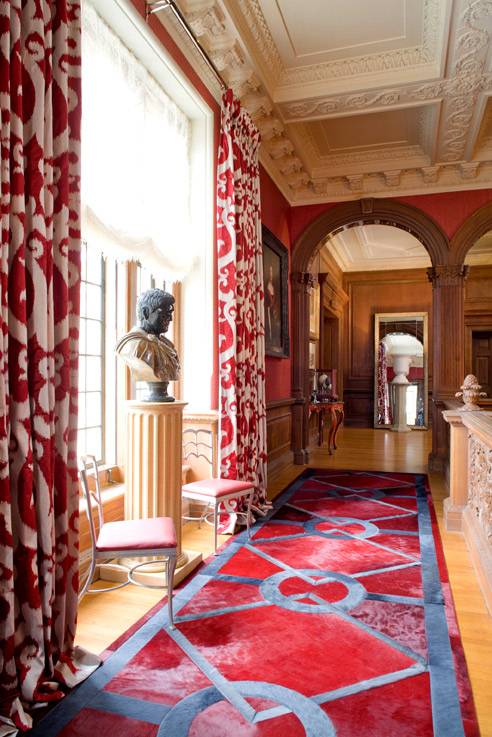 This custom designed pony hair rug was created for us by
Kyle Bunting
. Drapery fabric from
Christopher Hyland
.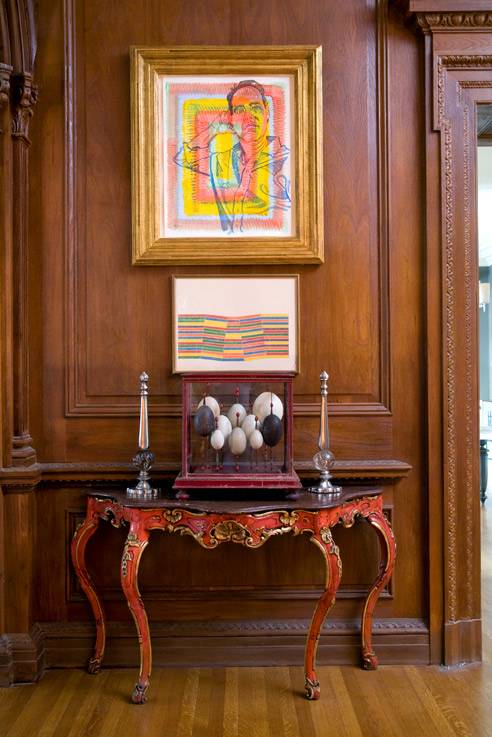 A portrait of yours truly by Don Bachardy, hangs above a Frank Stella watercolor and pencil drawing, and console table adorned with accessories from
Timothy Corrigan Antiques
.
Hope you enjoyed the tour!
A special thanks to the generous support from the following resources: Accents of France, Alexander Muller Upholstery, Armani Casa, Christopher Hyland Fabrics, Eric Buterbaugh Designs, Erik Bloom, Erez Talmor, Janet Yonaty, Inc., JF Chen, Jim McHugh, Kyle Bunting Carpets, Monte Allen Furniture, Murray's Ironworks, Philip Jeffries Wallcoverings, Reborn Antiques, Russell's Moving and Storage, Stark Carpets, Ty-Tech, Inc., Vandeuren Archival Framing