Knowledge Center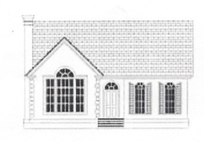 Traditional Style: Typically have no porches, and most have covered entryways. Usually have front facing gables. The main roof is usually a hip roof. Main roof ridges run both parallel and perpendicular to street. The exterior is clapboard or masonry (brick, stucco, stone.) Based on homes that were popular in the 18th and 19th centuries: i.e., Cape Cod, Colonial, Georgian and Saltbox.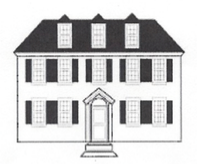 Georgian Style: Almost identical to Colonial style except: Have more ornamentation and details. Front doorway is centered on the facade of the house, is underneath a decorative pediment, is surrounded by columns or pilasters on either side, and has a transom above. Usually have double hung windows placed symmetrically around the front door. Typically have pediments on top of dormers. Typically have cornice work with decorative dentils. Roof is typically gabled or gambrel styled.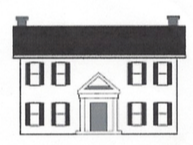 Colonial Style: Two stories with the same amount of square footage on each floor. Symmetrical facade. Front door is in center with flattened columns or windows on either side. Windows are arranged symmetrically on either side of doorway. Most often have six-paneled doors. Roof ridge of the main part of the house runs parallel to the street. Have paired chimneys. May have additional wings added on to the main body of the house. Bedrooms are usually on the second story.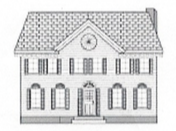 American Federal Style: Symmetrical facade. Front door is in center with narrow windows on either side and semicircular fanlight overhead. Front door with decorative crown or roof. Flat or low-pitched roof with balustrade. Cornice contains tooth-like dentil moldings. Circular or ellipitical windows. Shutters, arches and oval rooms.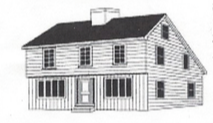 Salt Box Style: Same formal balance as colonial style except: Roof stretches farther down the back of the home than the front, covering two stories in front and sloping down to one story in the back. The main floor has about double the square footage of the second story. Often includes shake siding and shutters.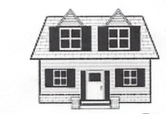 Cape Cod Style: One to one-and-a-half stories tall. Most often symmetrical plans. Facade is generally arranged symmetrically, but not as strict as Colonial style. Six-paneled doors. Multi-paned windows. There are windows on the upper floor on each end f the house. Shutters that cover entire window when closed. The roof does not have much overhang. Usually have dormers.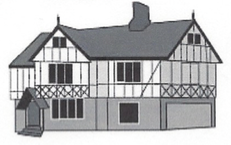 Tudor Style: Reminiscent of Medieval English homes. Stucco or masonry exteriors with ornamental half-timebering and large chimneys on steep gabled roofs. Large leaded windows found accented by stone mullions, transoms, and the Tudor arch. Commonly have arched entries and groupings of tall narrow windows. Some have oriel windows (upper story bay windows) similar to original Tudor manors.

Ranch Style: Traditionally single story. Low-pitched gabled roof running parallel to street. Tend to be long and narrow. Can be rectangular and L- or U-shaped. May or may not have porches. Uses space efficiently, with few interior walls. Plain facade aside from shutters and supports for porch roofs. Large windows. Often have a patio or deck reached by sliding doors.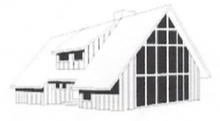 Contemporary Style: Asymmetrical design. Unique wood and stone used on otherwise plain exteriors. Geometric shapes. Single pitched or flat roofs, often sporting solar panels. Windows, usually casement or fixed glass. Long and straight windows sometimes combined with glass block. Siding comprised of vertical wood. Large overhangs. interior designs are diverse but tend to street wide open spaces. Split-level or drop floors. Pipe railings. Protruding dormers.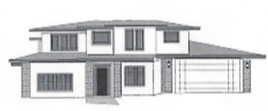 Prairie Style: Popularized by Frank Lloyed Wright. Many horizontal lines. Boxy shape with differing heights and depths. Shallow pitched roofs with overhanging eaves. Chimney in center. One-story projections. open interior spaces. Large casement windows. Small windows in rows.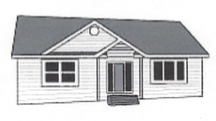 Bungalow Style: One or one-and-a-half stories. low-pitched roof with gables. Many bungalows incorporate the Arts & Crafts or Craftsman style. Typically the living room and dining room are joined by an arch or columns. Built-in cabinets, shelves and seating or sideboard. Small and easy to build with a square floor plan. Usually 1200 square feet or smaller - with a small kitchen. Living room is also used as a family room. Contains a fire place.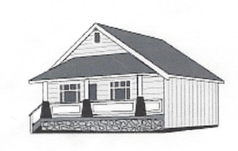 Craftsman Style: Style that may be used on a building of any size - Bungalow often employs this style. Low pitched, gables roof. Exposed rafters. Large porches framed by tapered columns.
Written by: Ruth Corrigan