Knowledge Center
French Furniture Styles
Louis-Philippe (1830-1848)
This style, devised for a busy but coddled bourgeoisie, sought both to satisfy their desire for comfort and to give them a sense of social legitimacy. It was less preoccupied with originality than it was with comfort and new techniques of production.
Furniture: Forms grew heavy. Chars and settees were comfortable, solid and massive. Gueridon tables proliferated, with round or oval tops on a central support of the baluster type or a swollen bulb in the middle; most had tilt tops. Armoires become essential furnishing in every bedroom.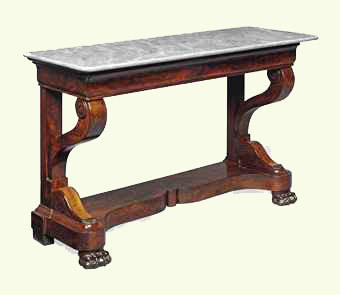 Materials and techniques: Dark woods became fashionable: mahogany, ebony and walnut. Brass fittings were rare. Marble tops were gray, black or white.
Ornament: Moldings virtually disappeared; decorative motifs were few, due to machine-assisted production methods.
Source: French Furniture by Sylvie Chadenet