Knowledge Center
French Furniture Styles
Louis XV (1730-1760)
Undoubtedly the greatest of all periods for French furniture, this was a period of extraordinary creativity, and was influenced by the royal mistresses: Madame de Pompadour, Madame du Barry, and a few others. Grand suites were replaced by smaller more intimate rooms, and were furnished with unfailing attentiveness to elegance, refinement, comfort and well being. Curved lines and asymmetry became the rule. Furniture became practical and readily transportable without losing any of its elegance. Foreign masters came to Paris to work at the Court: Bernard van Risen Burgh or B.V.R.B., Vandercruse known as Lacroix whose stamp was P.V.L.C.
Furniture: New items appeared: chiffoniers, writing desks with flaps, card tables and roll-top desks. Ladies' furniture: dressing tables, chairs with short armrests, desks, escritoires was designed. Armchairs, chairs, setees and daybeds abound. Cabriolet and bergere armchairs are popularized. Dining tables, round or oval were always covered with a floor length tablecloth. Marquetry and lacquer tables were numerous, practical and beautiful. Wooden paneling could be seen.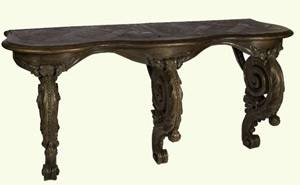 Louis XV French Console Table
Materials and techniques: Most solid wood furniture was made of oak or walnut, but there were also examples made of cherry, ash, plum, chestnut and olive. Beech, lindenwood and walnut were used only in chairs and other seating. Painted wood was often used to foster harmony between furniture and paneling. Marble and porcelain tabletops were used.
Ornaments: Typical ornamentation included curved lines, exotic themes, flora and fauna combined with chinoiseries and femine faces, flowers, and forms suggestive of rocks and shells. Doves and dolphins were the animal motifs of choice. Floral bouquets and garlands, isolated in bunches of three, surrounded by delicate greenery were common. It delighted in asymmetry. Oriental themes invaded decoration: sultans, pashas, dervishes and monkeys moving gracefully through imaginary landscapes. Considerable bronze ornamentation was an essential part of some items. Flower marquetry was very fine.
Source: French Furniture by Sylvie Chadenet