Knowledge Center
French Furniture Styles
Regence Style, 1700-1730:
Regence is best understood not as a style, but as a state of mind. It marked a turn toward intimacy, comfort, distraction and pleasure. Regence is a transitional style that resulted in greater comfort, and forms more elegant and agreeable to the eye. Lines had a new fluidity whilst retaining their symmetry. Charles Cressent, the master cabinetmaker, was to the Regence period what Boulle had been under Louis XIV.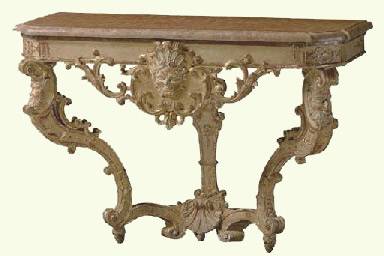 Furniture: The commode is popularized. Bookcases with meshed doors, cane chairs with curved "sabot de biche" legs. Tables, Duchess chaises longues, consoles, smaller sized tables, table bureaus (flat-top writing table), drop-front secretaries, cupboards, center lights and wall lamps were numerous.
Materials and techniques: Oak was used for the finest pieces, pine and poplar for more ordinary ones. Most seating was made of beech, walnut and fruitwoods. Wood veneer, wood marquetry and bronze fittings were popular. Veneers of precious wood with geometric design, together with much gilt bronze decoration was seen. Carvings, especially of stylized palm leafs, sunflowers, pomegranates, with trellis background and honeycomb designs were common.
Ornament: Moldings, thinner and less assertive than under Louis XIV, are in low relief. Smiling heads of fauns and women were often used and the lion's head disappeared. Scallop shells were very characteristic. Bat wings and animals, such as the monkey were seen. Motifs of exotic origin, such as pagodas, peacock feathers, parsols and exotic flowers were judiciously used.
Source: French Furniture by Sylvie Chadenet