Knowledge Center
French Furniture Styles
Second Empire, 1848-1870
During this period, furniture makers drew indiscriminately from all previous periods and sources, which resulted in an eclecticism that had considerable historicist charm and even inventive appeal.
Furniture: Gueridons supported by an American Indian or a blackamoor who kneels or bends over, as well as tables with bronze "bamboo" stalk legs where characteristic. Large desks with ample storage proliferated, but were not very original. Seating dominated furniture production. Pouf, or ottomans were extremely fashionable. Confidantes and indiscrets, were introduced; these were essentially two armchairs placed side by side but facing in opposite directions and linked by a common serpentine back.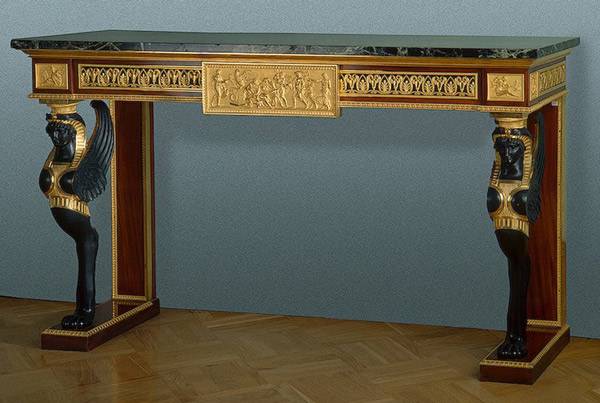 Materials and techinques: Most of the woods previously associated with French luxury furniture were used, but some were especially favored, such as ebony, pitchpine, walnut, and tulipwood. Black lacquer coated wood was very popular. Cast iron began to appear in furniture.
Ornament: Gilt-bronze fittings, copper, pewter, ivory and mother-of-pearl inlay, carved and gilded wood, applied porcelain plaques, painting on wood and panels of lacquered wood were all popular. Imagery evocative of the Far East, Africa and Native Americans was prevalent. Arabesques, bouquets of flowers, birds, pagodas and figures in oriental pieces were often used.
Source: French Furniture by Sylvie Chadenet