Knowledge Center
Related Articles: French Furniture Styles
Style Moderne - Art Nouveau, 1900's
French Furniture Styles
Style Moderne - Art Nouveau, 1900's
During this time, the avant-garde style moderne was the only French style to strive for invention and creative renewal during this period of complacent self-satisfaction that everything had already been said: that style, like civilization itself, had entered a culminating phase.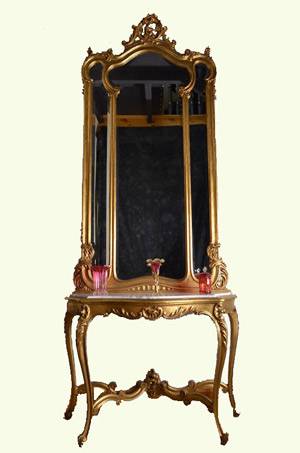 Furniture: A giant recapitulation of the styles of all countries in all preceding periods prevailed. Everything from Chinese to Spanish models, from Boulle to Gothic, found its way into furniture production. The High Middle Ages and early Renaissance were especially prized. In many respects, the style moderne- which encompasses Art Nouveau, remained experimental due to the onset of World War I.
1900 style: Some of the most characteristic tables are heavy neo-Renaissance pieces with marble, mahogany or oak tops and ornately carved legs and bases. Seating reflected the free interpretation of past styles, with no concern for unity.
The style moderne: Produced tables of eccentric shapes with curvilinear profiles. Chairs had clean continuous lines and high backs.
Materials and techniques: All materials and techniques were used by furniture makers of the day, who produced either luxurious pieces in costly materials, or serially produced furniture for Parisian department stores. The style moderne fostered the return of Brazilian mahogany. Oak, walnut and pearwood were also used. Iron, steel, bronze and cast iron were used.
Ornament: 1900 style exhibited Christian imagery, incorporating Gothic and Renaissance elements, and the nude. One motif is so prevalent that it should be singled out: the rose. The style moderne ornament was almost exclusively botanical in inspiration, with marine plants, tropical vines and branches virtually bare of leaves. Roses are virtually absent. Orchids and other exotic plants appeared frequently and became completely fantastic; their patterns often evoking loose and flowing women's hair. Geometric ornamentation disappeared completely.
Source: French Furniture by Sylvie Chadenet