Knowledge Center
Related Articles: Italian Period Styles
Baroque, 1560-1700
Italian Period Styles
Baroque, 1560-1700: The Counter Reformation in art, a Jesuit movement.
The Baroque style consists chiefly of an exaggerated, emphasized fullness of size, scale, and proportion. It is not necessarily over-rich in ornament, although lavish carving is typical. The classic architectural silhouette vanishes. Its splendor rendered it incapable of being scaled down or simplified; it furthermore was usually a group design, so that individual pieces are often either downright ugly or meaningless or unbalanced by themselves.
Wall furniture flourished; tall cabinets, console tables and wall seats. Sculptured bases, with cherubim, mermaids, lions, eagles, shells, and leaves were gilded and polychromed.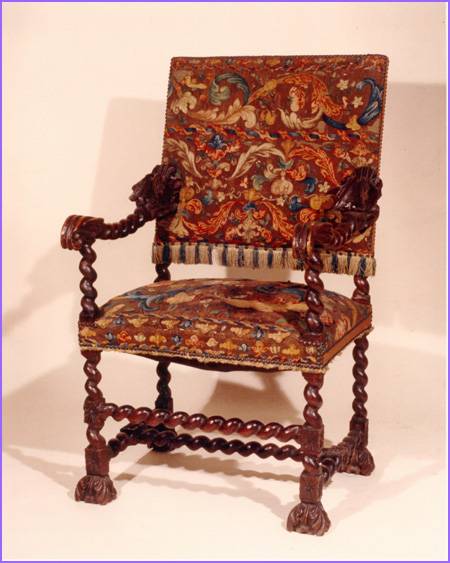 Table forms were diverse. The Italian royal palaces featured bases that carried tops of marble, pietra dura, scagliola, or painted imitations. The most common type of table for the upper classes was made of walnut. Armchairs (sedia) had high backs and were primarily rectangular. The next change was chairs with flowing outlines, excessively carved and gilded where upholstered with large-patterned velvets, silks, and stamped leathers; nail-heads were arranged in decorative patterns. Storage pieces included the cassone, the credenza, the armoire, the cabinet, and the chest of drawers. Most all had raised panels. Mirrors were larger, particularly as to frames, which were most intricately carved.
Sources: The Encyclopeida of Furniture by Joseph Aronson and History of Interior Design Furniture by Robbie G. Blakemore