Knowledge Center
Related Articles: Italian Period Styles
Foreign Influence, 1750-1900
Italian Period Styles
Foreign Influence, 1750-1900: All the eclectic revivals; the impulses originating chiefly in France and England and including the classic styles of Louis XVI, Hepplewhite, Adam, etc.: Directoire, Empire, mid-19th century, etc., in freely modified versions.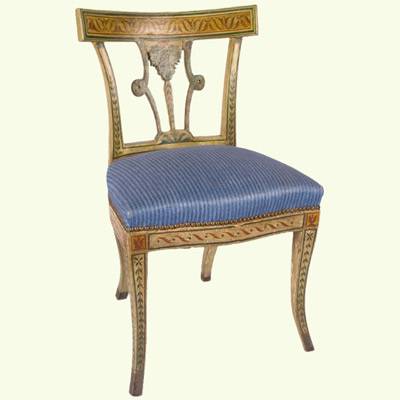 Rejecting cold formalism, this period achieved symmetry and brilliance with paint, marquetry, marble, and gilding. Milanese commodes inlaid with light wood are typical.
Italian Directoire: Northern Italy was essentially French and the style lent itself to prettification. Swans, lyres, scrolls and fine detail were liberally naturalized. Carving, gilding, painting, inlaying, and veneering reached new heights of technical virtuosity.

Empire: The Empire style substituted the heavier Roman, Greek, and Egyptian forms for Greco-Roman airiness. More walnut was used and less ormolu.


Sources: The Encyclopeida of Furniture by Joseph Aronson and History of Interior Design Furniture by Robbie G. Blakemore