Knowledge Center
Related Articles: Italian Period Styles
Pre-Renaissance, 1100-1400
Italian Period Styles
Pre-Renaissance, 1100-1400: Insincere, misunderstood Gothic on a base of classic Romanesque, Byzantine, and Saracenic art.
The palaces of rich merchant families displayed a cosmopolitan, secular style with only a minimum of furniture.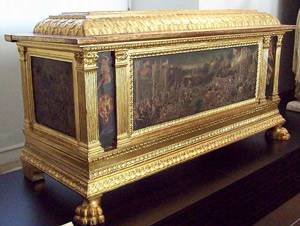 One of the most common articles of furniture was the storage chest, cassone, was made of planks and heavy boards, long after the superior framed-panel construction was the rule in France. Superficial Gothic details, such as pointed arches appeared as well as pierced tracery carving with Persian overtones, seen in Venice. Flat surfaces were painted with landscapes or textile patterns, sometimes raised with gesso and sometimes inlaid with mosaic and marble (Cosmatesque work) or with ivory or bone in fine geometrical (certosina) patterns in Moorish style.
Sources: The Encyclopeida of Furniture by Joseph Aronson and History of Interior Design Furniture by Robbie G. Blakemore