Knowledge Center
Related Articles: Italian Period Styles
Quattrocento, 1400-1500
Italian Period Styles
Quattrocento, 1400-1500: The Early Renaissance, a style of classical purity, simplicity. Renewed interest in ancient art endowed all furniture of the Early Renaissance with an architectonic outline.
Rooms of the Italian Renaissance were sparsely furnished. The furniture was characteristically imposing, dignified, and often massive; ornamentation ranged from restrained to the highly decorative.
Chests and cupboards had bases, pilasters, and cornices, scaled down from architecture. Their bases were pedestals, solid to the floor, rather than feet. The cassapanca was a cassone with back and sides to form a settee; cushions were added for comfort. The credenza was a low sideboard with doors and drawers.
Chairs were principally straight rectangular structures (sedia) large and dignified and uncomfortable, with flat arms at right angles to the backpost; the seats were padded at an early date.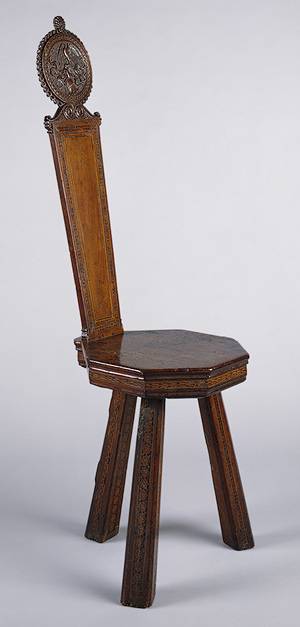 Tables derived largely from the long trestle type, with turned baluster legs or shaped slabs, but four-leg types with box stretchers appeared early.
Ornament was purely classic in character, with pilasters and scrolled volutes, fine moldings enriched with egg-and-dart, dentils, etc.; panels, with foliated scrolls were delicately carved. Gilding and polychromy in strong colors, landscapes and conventional painting decorated flat areas and moldings. Both incised and chip carving were executed in low relief. Pastiglia was another means of attaining relief ornament. Wood is universally walnut, oiled or waxed to a deep, rich tone.

Italian furniture is distinguishable by local styles. Tuscany, centering in Florence, led in the Early Renaissance. Her style was refined and nobly restrained. Siena is noted for painted and gilt furniture, while in Lombardy the certosina inlay was favored. Venice produced inlays in varicolored woods (intarsia), and later turned to highly decorative painted work of capricious form. Genoa and Liguria are known for distinctive four-door cupboards. Rome developed the rich style of carving that came to dominate all Cinquecento furniture.
Sources: The Encyclopeida of Furniture by Joseph Aronson and History of Interior Design Furniture by Robbie G. Blakemore