Go Design Go Timothy Corrigan's Summer Essentials Have a French Flare
Source: Go Design Go
Timothy Corrigan's summer essentials have a French flare
July 7th, 2014
Previous designers featured on Go Design Go's summer essentials series (Gary McBournie, Noha Hassan, Stacy Naquin, Janet Rice, Jenny Zalkin and Tyler Dawson) traveled near and far to refresh their interiors for summer. To fuel his summer designs, globetrotter Timothy Corrigan draws upon French culture.
Recently introducing the first fully integrated line of fabrics, trims, furniture and floor coverings for Schumacher and Patterson, Flynn & Martin, as well as a tabletop collection for Royal Limoges, Timothy's home in the French countryside and trips across France continually inspire his work.
Go Design Go chatted with Timothy to learn about his entertaining tips for Bastille Day and how traveling influences his summer designs.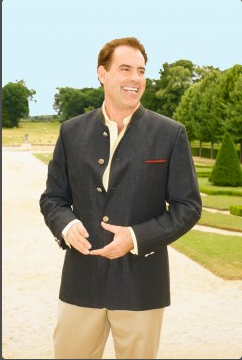 What are some of your summer essentials and how do you use them in your designs?
I always associate summer with crisp white linen, but unfortunately it doesn't usually stay nearly "crisp" or white enough when it comes to home design. That is until recently; now there are some amazing outdoor fabrics that look and feel like the best white linens, but they are stain (and wrinkle) resistant. There is almost nothing as chic as a white linen sofa… and now it can be practical as well.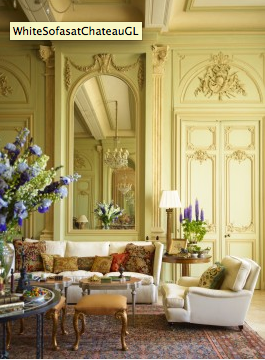 Do you see any new trends emerging this summer?
Blue & white, while always popular, is hotter than ever; you see it everywhere from fashion to home. In terms of fabric, I see a move away from geometrics, to more organic and lyrical patterns, that are vibrant and nuanced, which is evident in the patterns I designed for my new fabric collection for Schumacher. I think that everyone wants to capture the comfortable, casual California lifestyle, no matter where they are, especially during the summer months when entertaining tends to be more relaxed.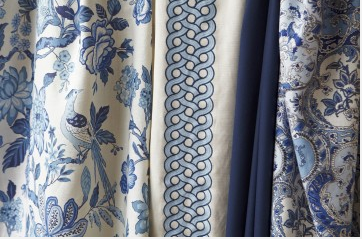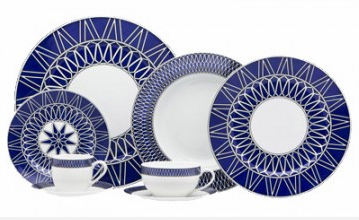 What are your tips and tricks for entertaining guests in the summer?
I'm planning a Bastille Day celebration and will be creating a blue, red and white tablescape using a mix of plates from both the "Blue Star" and "White Star" patterns that I created for Royal Limoges. I always serve a deceptively strong signature drink to help get the party started and a good playlist is essential for setting the right mood. I also try to come up with ways to get my guests to interact with each other, whether it's an outdoor activity like croquet, a game or even a walk in the woods.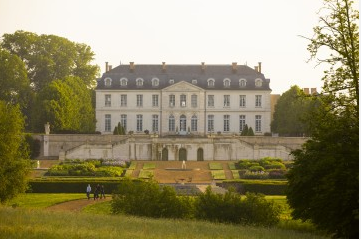 What is your favorite summer get away? How does it help you find inspiration?
My favorite summer get away is my home in the French countryside, Château du Grand-Lucé. The gardens and woods are full of beautiful flowers, fruits, vegetables, plants, trees and even unusual bugs that are always inspiring in terms of color, shape and texture. Spending time at the chateau makes me slow down and appreciate things that I'm often too busy to notice... even the simplest design details, that I may have seen many times, might spark a new idea when I am in that more relaxed state of mind.

Do you have any objects that you picked up from your travels?
There is hardly a trip that I have ever taken in which I haven't stopped to buy something that eventually goes onto a project. I love the entire process of finding something really special (ideally at a great price) and I love passing that on to my clients. To me, part of the fun of travel is finding those special treasures that you would not have seen if you stayed at home. On a recent business trip to Chicago I stopped into the terrific Leslie Hindman auction house and saw a couple of items that are going to be unexpected accessories on an upcoming project we are installing.
Is there a specific way you interpreted something you found on a trip into a project?
To the average person, I probably have the world's most boring set of iPhone photos because I am always taking pictures of patterns, shapes and details that I later use as inspiration on a project. A wrought-iron grill detail that I saw on an Art Deco bank building in Paris served as the inspiration for my new "Rue Lafayette" carpet for Patterson, Flynn and Martin.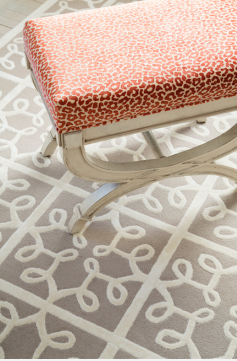 Click here to read article on Go Design Go.