Hadley Court The Inspiring Studios of America's Top Designers - Timothy Corrigan
Source: Hadley Court
Author: Leslie Caruthers for Leslie Hendrix Woods
THE INSPIRING STUDIOS OF AMERICA'S TOP DESIGNERS – TIMOTHY CORRIGAN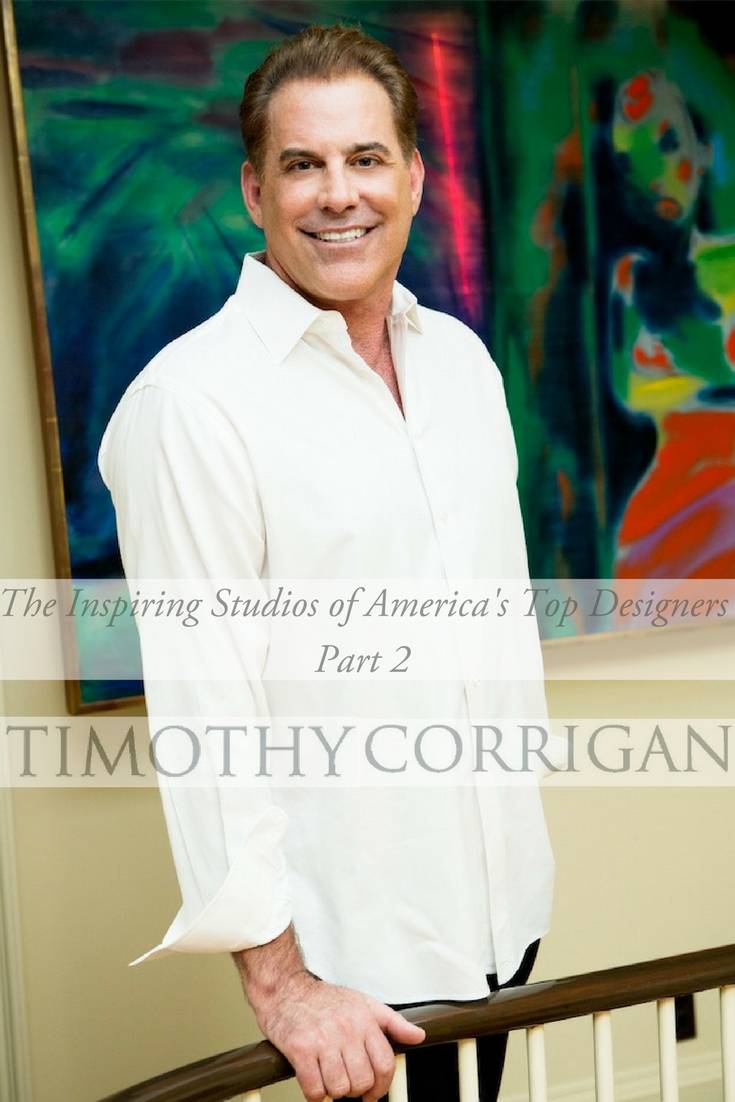 Interior Designer Timothy Corrigan It is with pleasure that we bring you an exclusive interview with renowned international interior designer, author and product designer, Timothy Corrigan, for Part 2 of our new series on "The Inspiring Studios Of America's Top Designers"!
Before we continue, though, with our sneak peek and interview, here's a bit more about Timothy Corrigan, taken from his website, for our readers who may not yet be familiar with his work.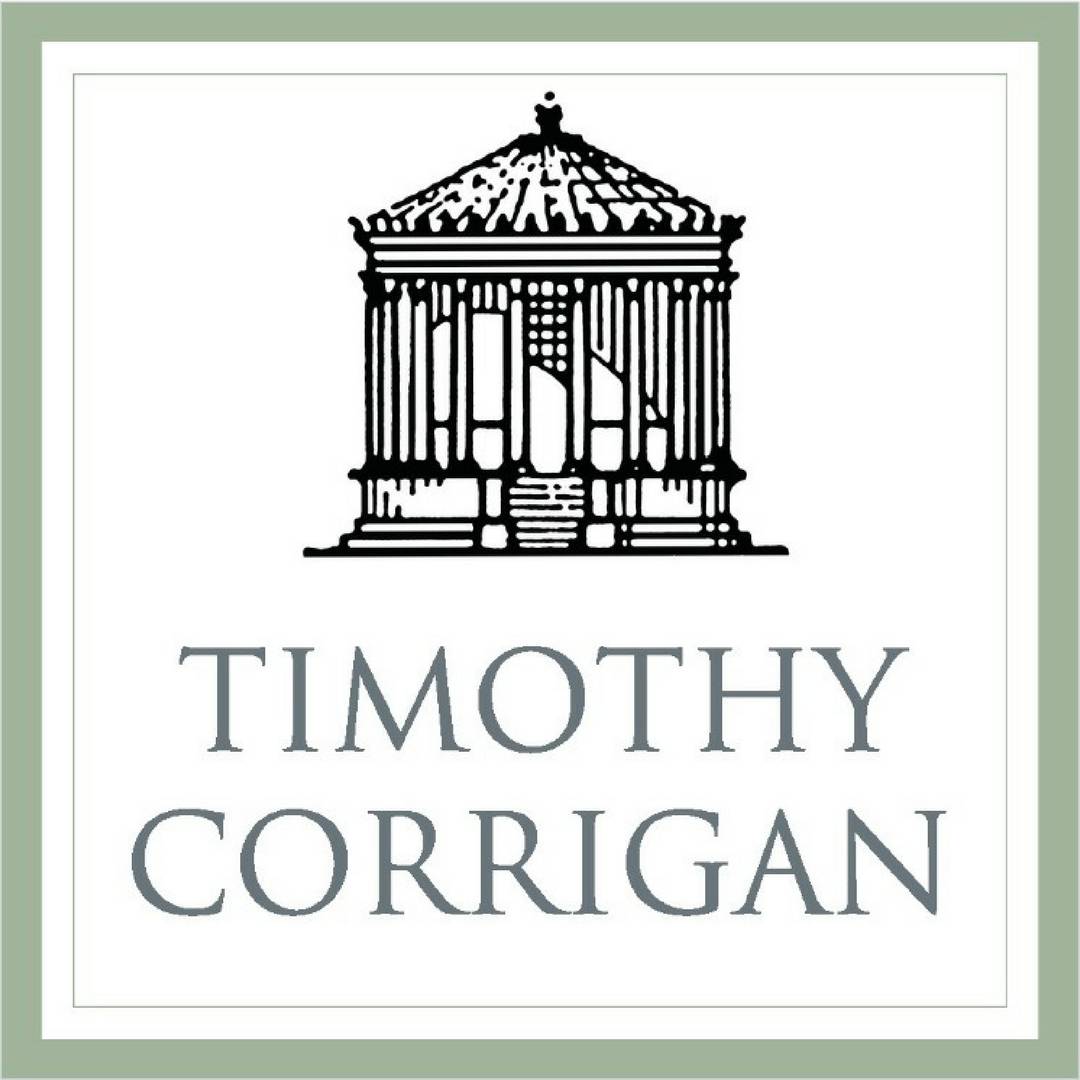 The official logo of Timothy Corrigan.
" Timothy Corrigan's timeless design philosophy combines European elegance with California comfort. He has been hailed in Architectural Digest as "Today's Tastemaker" and has been named to most of the design world's "Best Designer* lists, including Architectural Digest's AD 100, the Robb Report's Top 40 and Luxe Magazine's Gold List. He is regularly featured on television and in prestigious publications such as: Elle Décor, The New York Times, Town & Country, Veranda, House Beautiful, Traditional Home, Luxe Interiors + Design, Vanity Fair, Vogue and The Wall Street Journal. His clients include royalty, Hollywood celebrities and corporate leaders."
In January 2017, Timothy received the "Design Icon" award from the Las Vegas World Market & Design Center and he was the first American designer honored by French Heritage for his restoration of several national landmarks in France.
Timothy has designed fabrics, trims, furniture and floor covering for Schumacher and Patterson, Flynn & Martin, as well as two tabletop collections for Royal Limoges. His collection of plumbing and door hardware for THG Paris debuted in March of 2017, and his passementerie for Samuel & Sons, wallpaper for Fromental, and furniture for French heritage company, Moissonnier, will also debut in 2017 and 2018.
His book, An Invitation to Château du Grand-Lucé, is a lavishly illustrated monograph that highlights his design philosophy and brings to life the fundamental principles at the heart of his work. Published by Rizzoli, the tome chronicles the restoration that he conducted of his 18th century French country house in the Loire Valley.
Prior to forming his design firm in 1998, Timothy had a successful career in advertising where he headed up Saatchi & Saatchi's Bates Worldwide's international operations."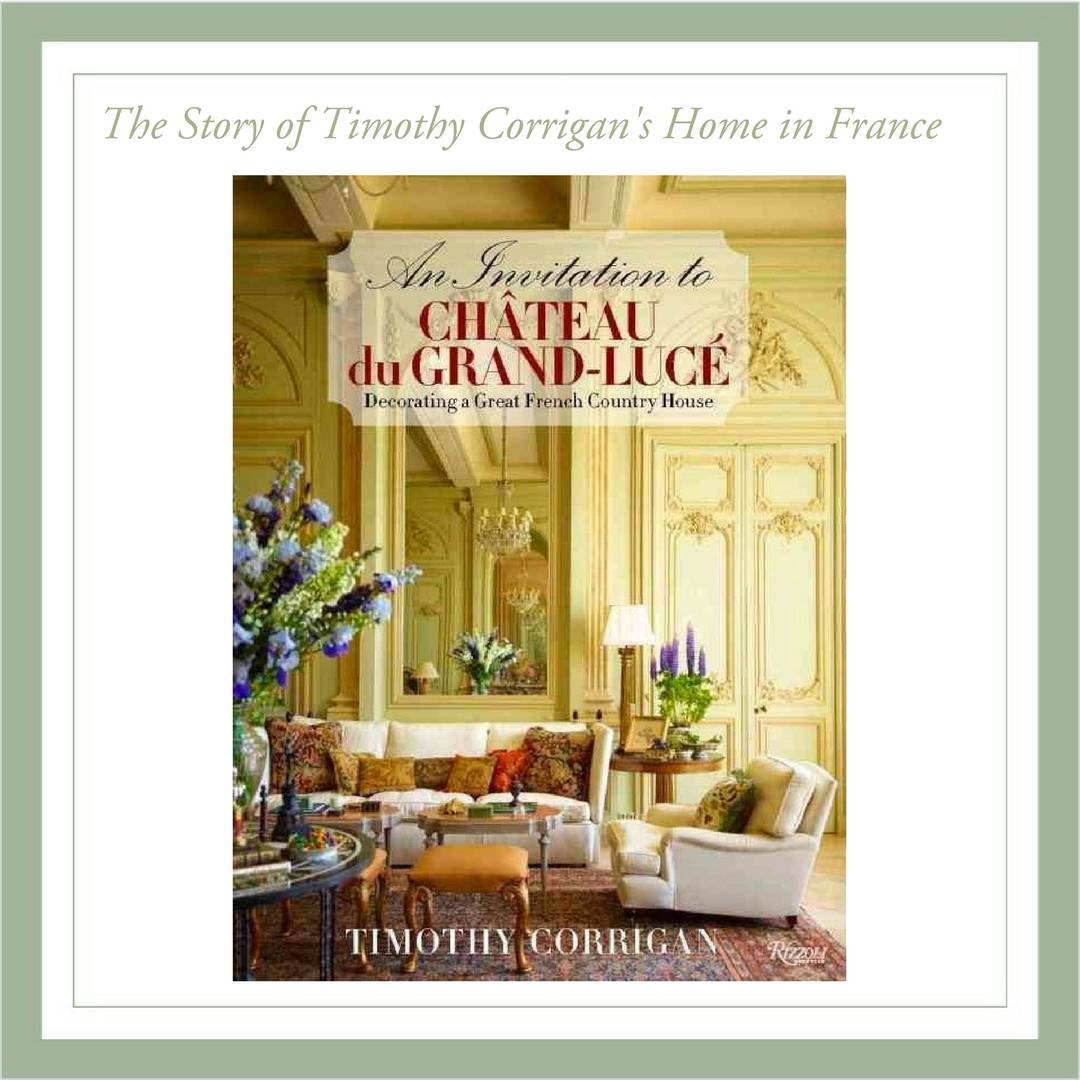 Timothy Corrigan's book, An Invitation to Chateau du Grande Luce, the story of his great french country house outside of Paris.
We want to take you on a tour of Corrigan's Los Angeles design offices. Here's the classic exterior, with the Versailles planters holding pretty green topiary and lavender colored flowers. We love the extra wide entrance and the urns in Tim's windows, filled with even more greenery. Doesn't it look inviting and welcoming?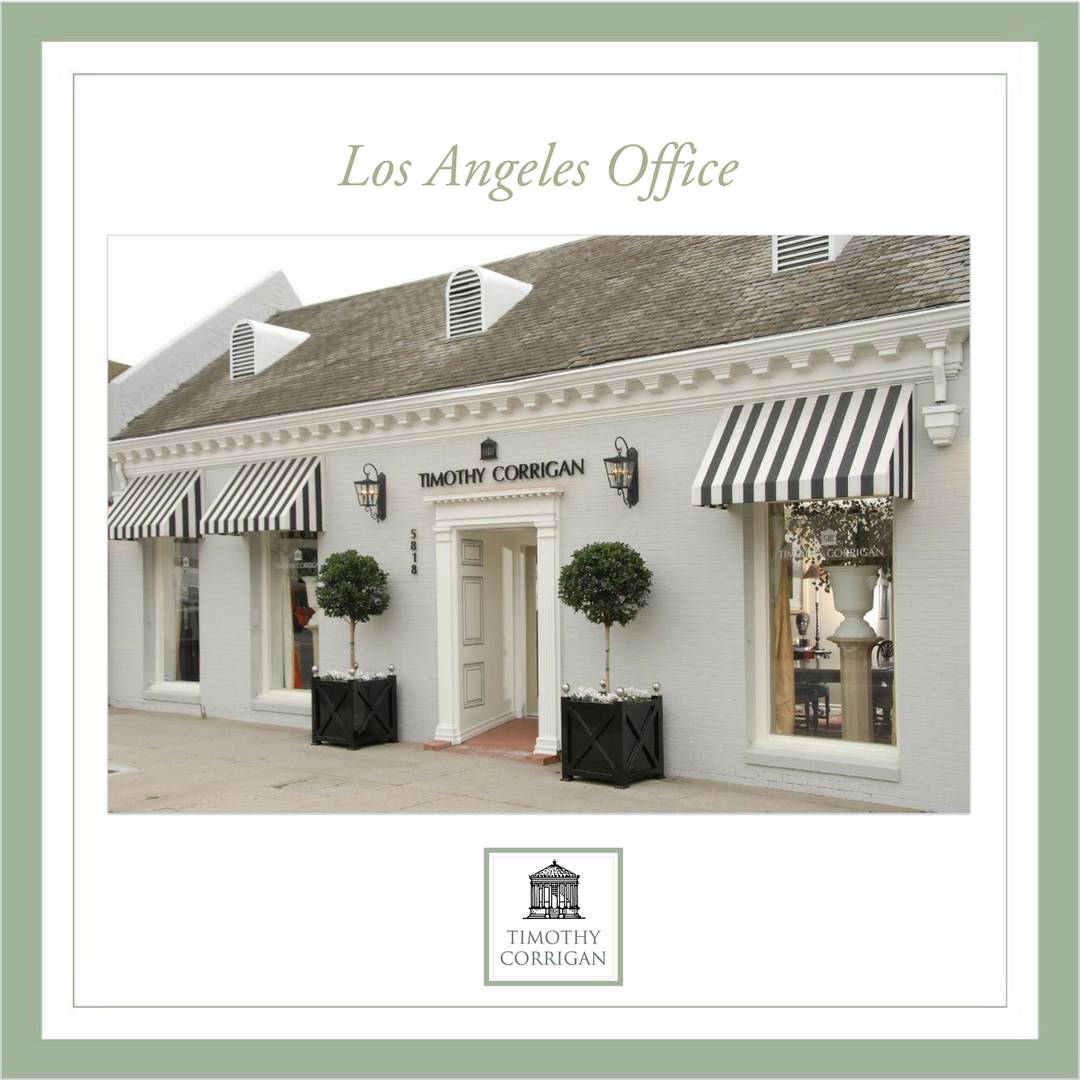 The beautiful exterior of interior designer Timothy Corrigan's Los Angeles offices.

One of our favorite artists, Patricia Van Essche, created this illustration from the above photograph. As our long time readers know, we are big fans of the power of illustration to create an emotional connection to a brand.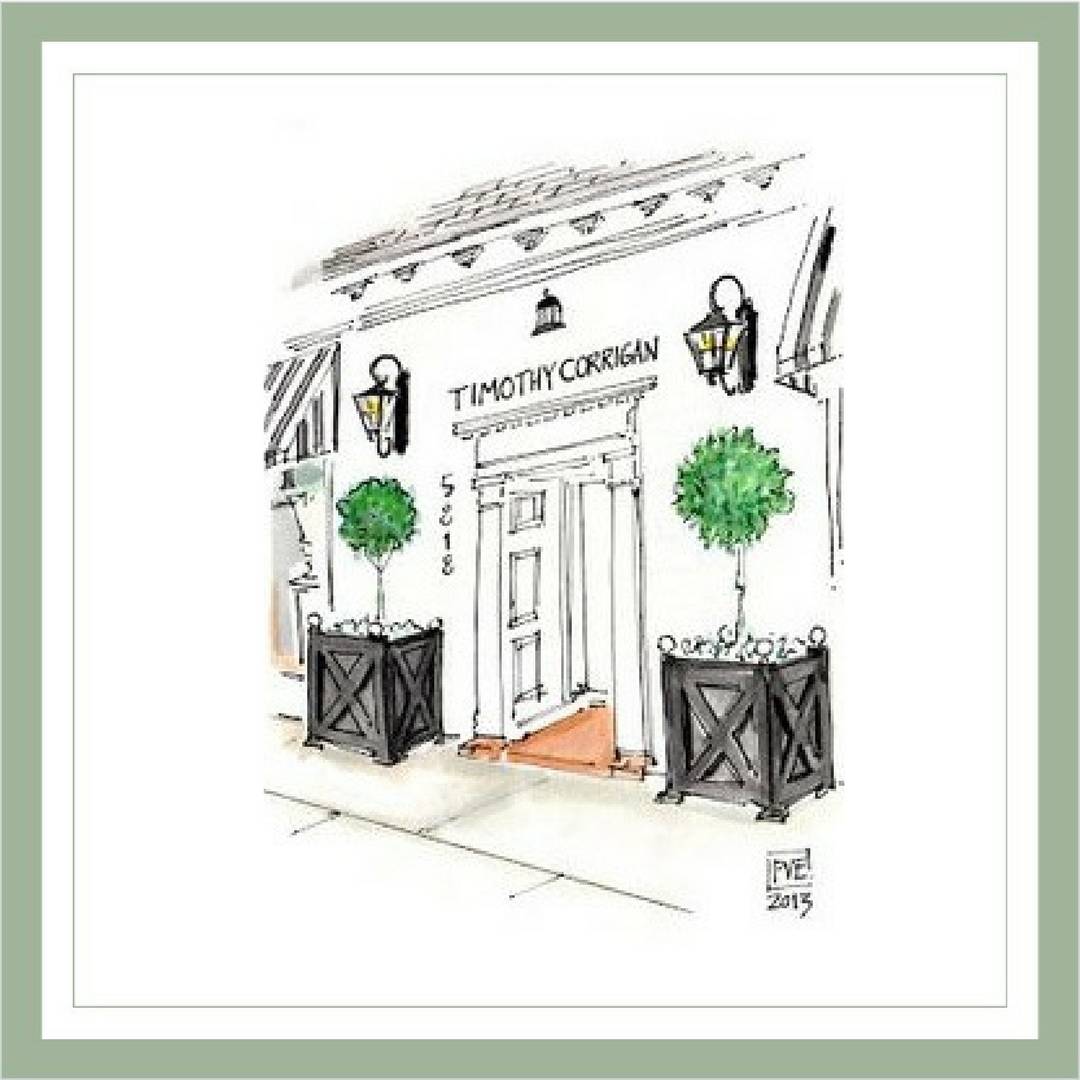 Artist Patricia Van Essche's illustration of the Los Angeles offices of interior designer, Timothy Corrigan.
Our first interview question for Tim:
HADLEY COURT: "What Does Your Workspace Look Like?
Timothy: "From the street, our office has a charming, house-like storefront with striped awnings and a pair of topiaries in Versailles boxes flanking the front door. It feels very much like a home environment inside. There are antique rugs and furniture throughout the office, along with beautiful lamps, light fixtures and accessories. There is a sitting area with a pair of comfortable upholstered chairs and a table stacked with magazines and books that feature our work. We have a large urn filled with seasonal foliage and the walls are hung with oil paintings, mirrors and large framed photos of our work." – Timothy Corrigan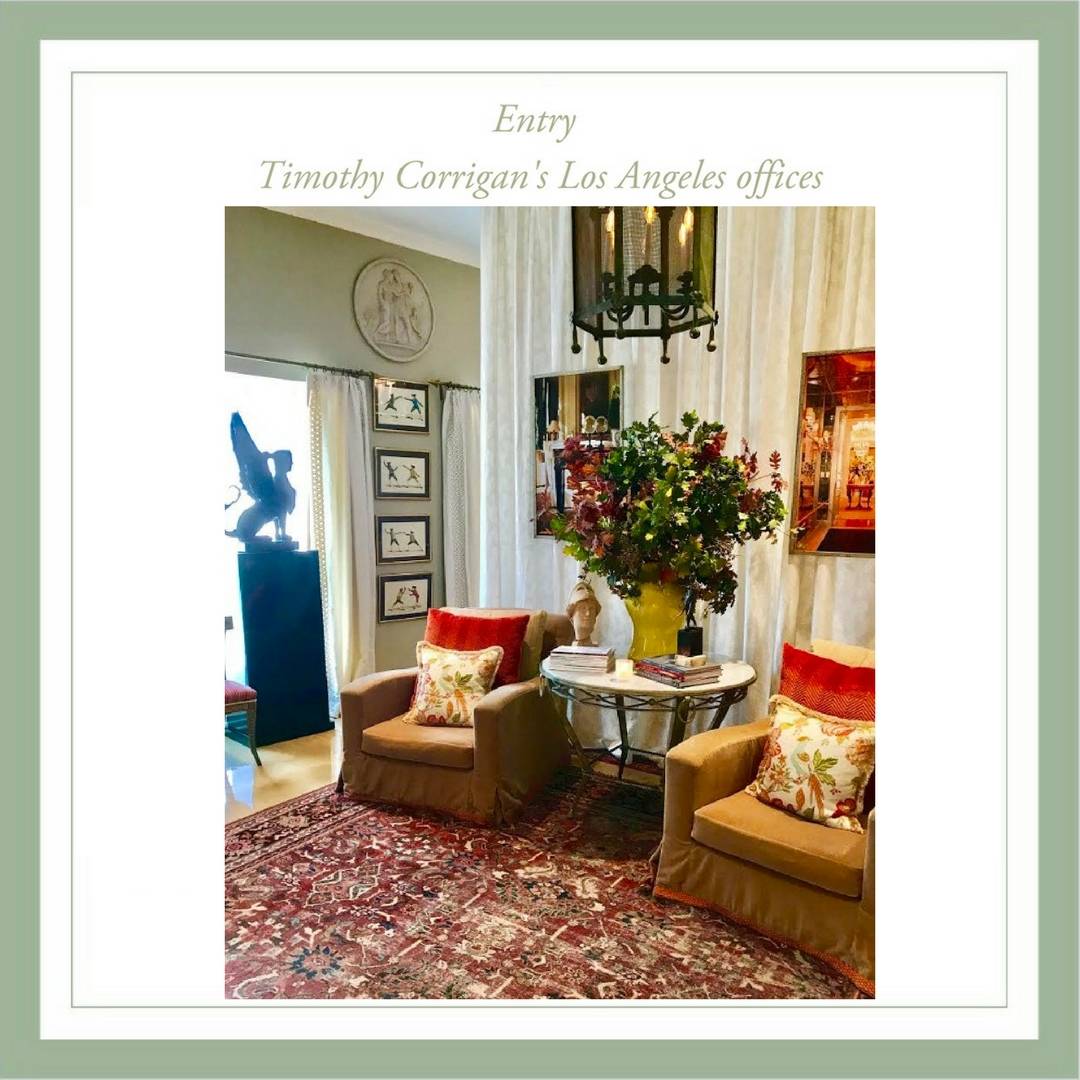 The entrance to interior designer Timothy Corrigan's Los Angeles offices.
"We have two conference areas in the front of the office, each with antique tables and chairs, a private office for our accounting department, and a kitchen. We are particularly proud to have one of the largest resource libraries of any firm. It is filled with bookcases of architecture, design and landscape books that have been collected over the past 30 years. Our fabric library is divided by color (prints and plains), stone and tile, wood finishes and product catalogs. Because we have never had the luxury of a full-time librarian, the whole area is, sadly, not as organized as it should be.
Behind this area are our office areas. We have bays for design teams and CAD. These areas have built in desks, file drawers, upper cabinets and shelving for design binders. There are two more private offices in the rear, one for me and the other for our managing director. " – Timothy Corrigan
We love the collected, comfortable, artful mix in Tim's conference room and can imagine how all of these objects elicit questions that start fascinating conversations!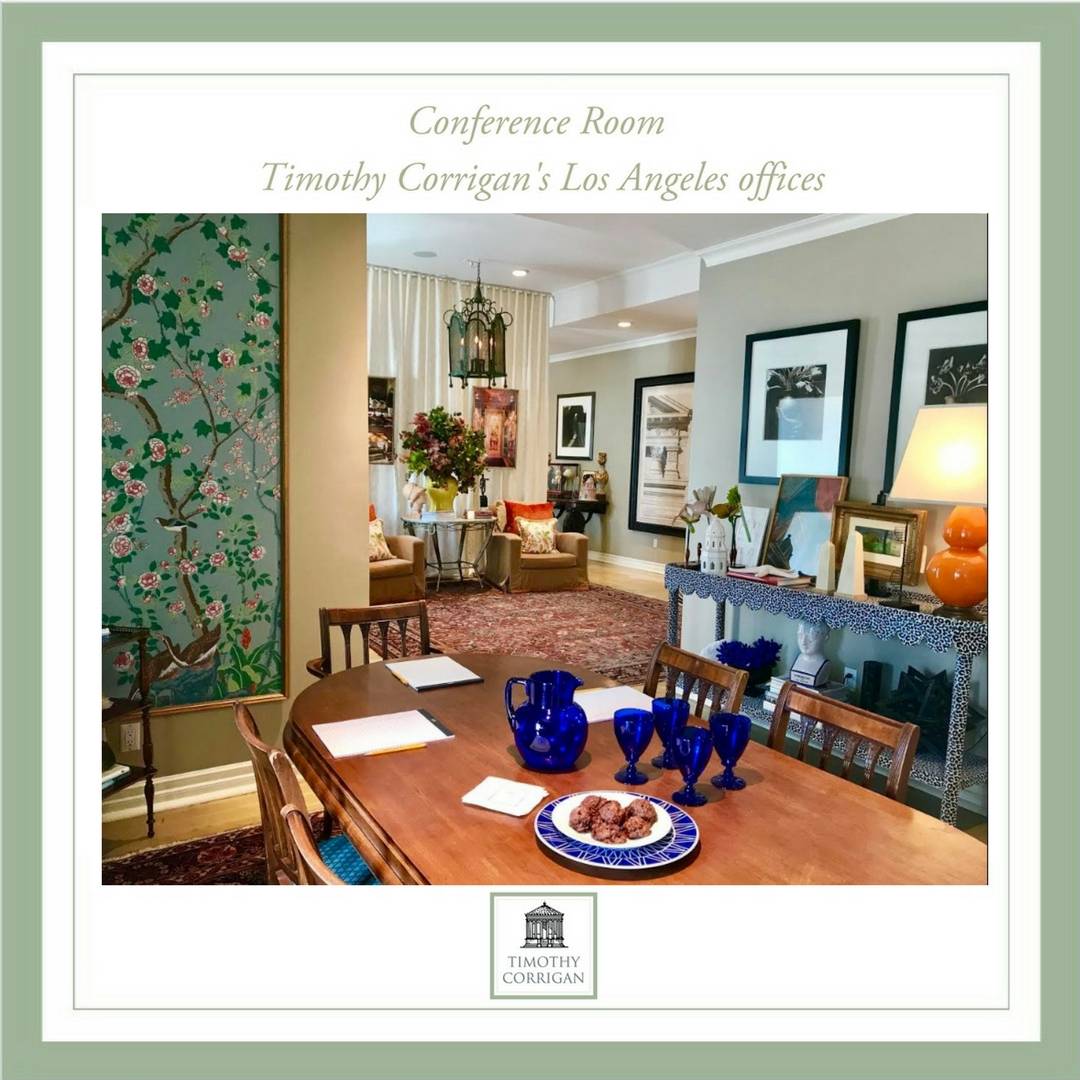 Interior designer Timothy Corrigan's conference room, in his Los Angeles office.
HADLEY COURT: " How Do You Set The Mood For Client Presentations?
Timothy: " While it would be easier to do our client presentations at our office, we usually do them at our client's home. We use masking tape on the floor for furniture placement, which helps our clients visualize and feel, spatially, how our plan for them will work. In addition, because colors look so different in different lighting conditions and from one place to another, we prefer seeing the fabrics, wallpaper and paint colors in our client's actual home.
The one exception to meeting in our client's home is if our client's home is under construction. Then, we do meet in our offices, where we always have fresh flowers and Timothy Corrigan Home candles burning to create a welcoming environment. We also offer our clients refreshments, because sometimes a little pick me up is needed. People underestimate how much energy it takes to make design decisions!" – Timothy Corrigan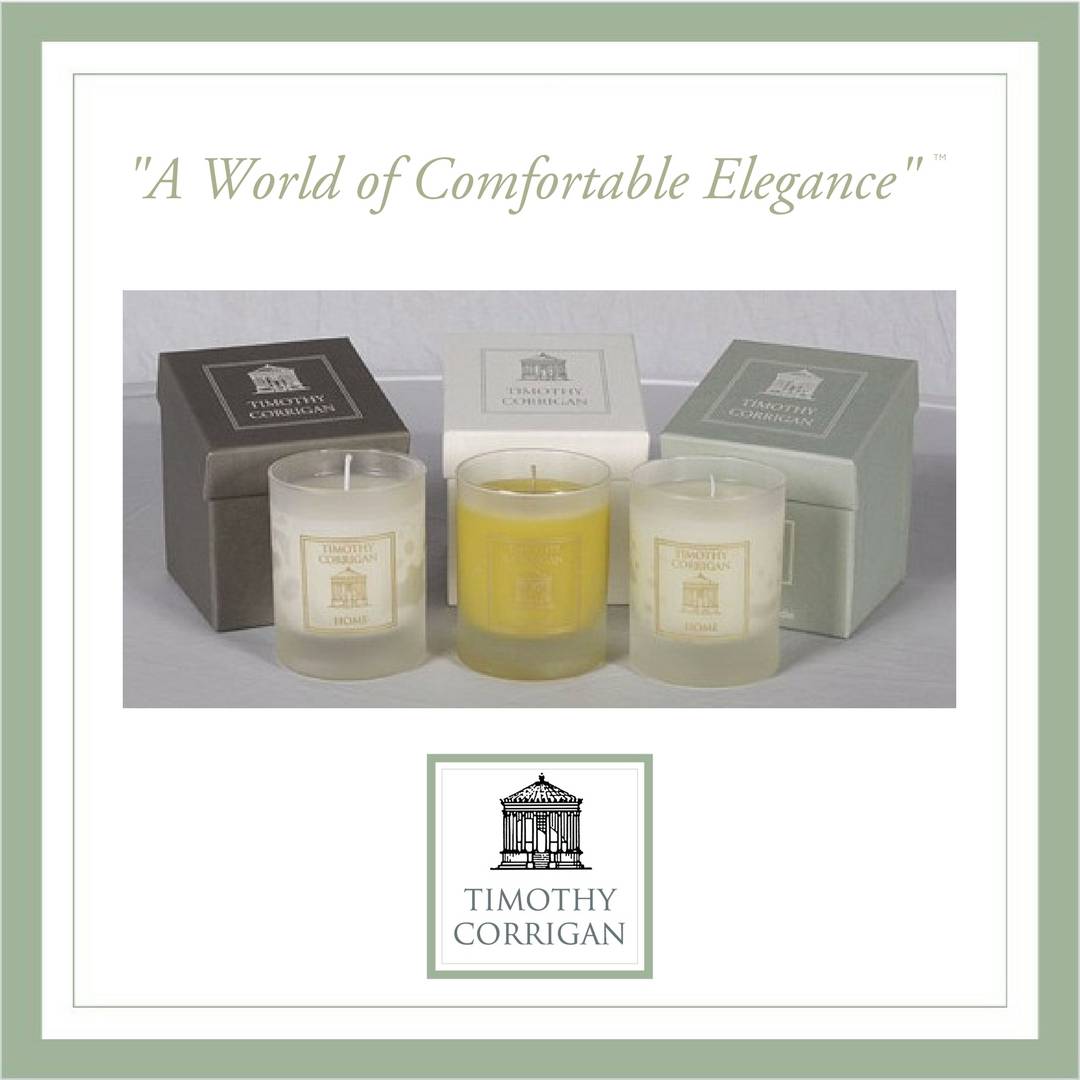 Timothy Corrigan Home candles, avail. in 3 different fragrances on www.timothy-corrigan.com
HADLEY COURT: "What kinds of branded presentation materials do you use?"
Timothy: "After we prepare an agenda on our letterhead, we have note cards and labels printed with our logo that we use to organize fabrics, per item and per room. Tear sheets with photos and dimensions of every item that we presented are also prepared and printed with our logo." ~ Timothy Corrigan
A clear pocket holds a fabric for a Timothy Corrigan presentation. His notecards, printed with his logo, attached.
Interior designer Timothy Corrigan's beautiful letterhead is used for all his client presentations.
HADLEY COURT: "Do You Utilize Online Tools In Your Client Presentations?"
Timothy: "We don't use online tools in our presentations. Furniture and lighting options are printed for clients to see and keep. It allows us to spread things out and see how everything will work together." – Timothy Corrigan
HADLEY COURT: "What Presentation Materials Do You Give To Your Clients, Once The Presentation Is Complete?"
Timothy: "Our client's are presented with floor plans, elevations, fabrics and finish samples during the presentation. If they need time to live with the fabrics, then we will leave the samples with them. Generally, once a decision is made, we request that the samples be returned. Every client is given an updated budget whenever proposals are sent so they know exactly how the job is going against the originally agreed upon budget.
On hospitality or other large, more structured projects, a *Design Concept* document is presented at the start in order to explain and illustrate the general design direction that we will be proposing." ~ Timothy Corrigan
~~~
Timothy: we can't thank you enough for providing our readers with such wonderful insights into your design presentation process. We wish you every continuing success!
Dear readers: we hope you have enjoyed Part 2 of our series with Timothy Corrigan and we invite you to click here, to see Timothy's designs for his new collaboration with luxury bathroom fixture manufacturer, THG – Paris, which we swooned over when we saw them in person at the recent Design Bloggers Conference in Los Angeles!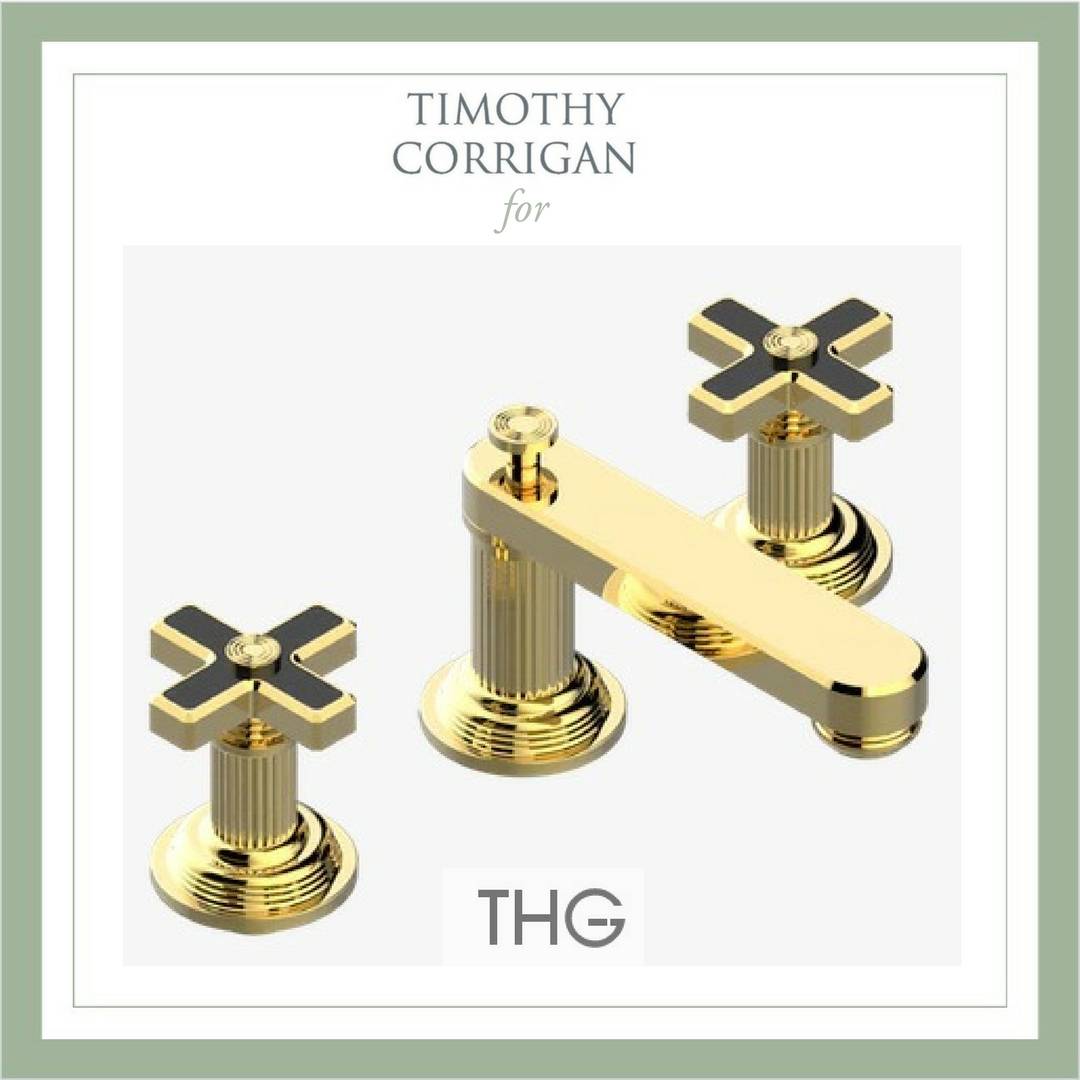 Timothy Corrigan's new collaboration with THG - Paris.

Part 3 of our exclusive series on *The Inspiring Studios of America's Top Designers* will be coming up next month on Hadley Court and, until then, we hope we have inspired you to create a more beautiful workspace or office of your own.
If we have, we'd love for you to tell us about in the comments and, thank you, as always, for reading and subscribing to Hadley Court – we appreciate YOU.
~~~
Leslie Carothers
for
Leslie Hendrix Wood
Leslie Hendrix Wood Interiors
Interior Designer
Midland, Texas