11/08/2007 Timothy Corrigan Introduces Lamp & Table
Link: Elaine@timothy-corrigan.com
INTERNATIONALLY ACCLAIMED DESIGNER TIMOTHY CORRIGAN INTRODUCES OSTRICH EGG LAMP AND ARROW TABLE
Lamp and Table Featured in the 2007 Primetime Emmy® Award's Greenroom
LOS ANGELES – (November 8, 2007) Internationally acclaimed designer Timothy Corrigan today announced the introduction of a Macassar Ebony & Ostrich Egg Lamp and a Golden Arrow Table to the Timothy Corrigan Home Collection. Both items were featured in the 2007 Primetime Emmy® Award's Greenroom."We designed these tables and lamps for the AD Greenroom at the 2007 Primetime Emmy® Awards where they were such a huge hit amongst television's biggest stars that we decided to make them available to a wider audience." Mr. Corrigan explains. "Because of their classic lines and design elements, these items can be integrated into just about any setting, from the most traditional to the most stark and clean of contemporary rooms." Having traveled the globe designing some of the world's most spectacular properties, Mr. Corrigan has taken inspiration from two ancient symbols and transformed them into beautiful and useful items to add to any setting, either traditional or contemporary.The Ostrich Egg Lamp is mounted on a stunning Macassar and Ebony wood base; each egg is separated by an ebony spindle shaped disc that allows the individuality of each egg shine through. It is topped with an elegant cream-colored square lampshade with two light fittings and a brown silk cord. Because of its height, it will serve equally well as a table or floor lamp. The lamp can be paired on either end of a long console table, on a pair of tables or chests flanking an entrance way, or can easily stand alone for a strong design statement. Lamp dimensions: Height 60 ½", Width 9". Suggested retail price is $2100.00. Custom sizes are available upon request.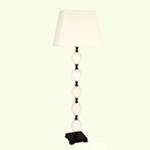 The Golden Arrow Table takes its cue from the French Louis XVI and Directoire periods when the arrow shape was widely incorporated into interior design, and then became all of the rage again during the 1930's and 40's throughout Europe. The simple elegant design of three arrows tied together at the center to form a tripod, is the base for the round glass top perched on arrow heads. The table is perfect grouped as a pair for cocktail tables, or as a side table next to an armchair or sofa. The table is made of recycled steel and has an aged gilt finish. Table dimensions: Height: 21 ½", Diameter: 24". Suggested retail price is $1750.00. Custom sizes are available upon request.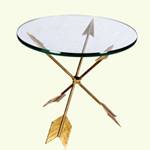 Recognized in the design world as an expert in antiques, decorative arts, and architectural restorations, Mr. Corrigan has earned global recognition for his proficiencies in a wide range of architectural styles and casually elegant interiors.Named to Architectural Digest's AD 100 and Robb Report's Guide to the World's Top 40 Interior Designers, Mr. Corrigan was selected to design the Architectural Digest Greenroom at the 59th Primetime Emmy® Awards and lectures around the world on a variety of subjects including "Eco-Luxury," "Casual Elegance in Design," and "The Art of Buying Antiques."In launching Timothy Corrigan Home, Mr. Corrigan offers a wide range of products that reflect his eco-luxury design philosophy that environmental consciousness doesn't require sacrificing style, quality or effectiveness. His lamp and table designs follow the launch of Timothy Corrigan Signature Candles, Timothy Corrigan Home Care, his line of premium eco-friendly polishes and cleaners, and Timothy Corrigan Antiques, his web-based antique collection.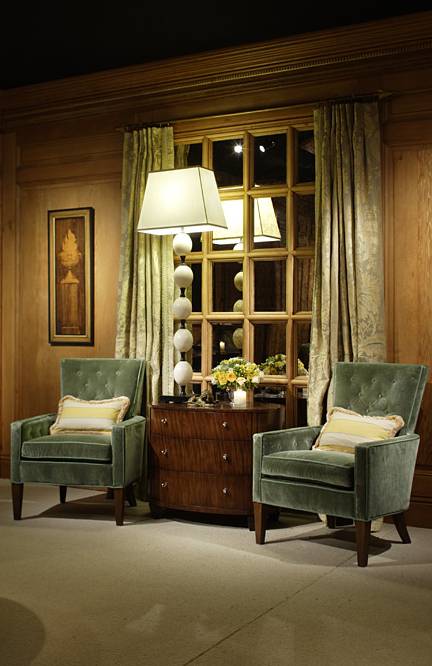 Timothy Corrigan Home Collection Macassar Ebony & Ostrich Egg Lamp featured in the 2007 AD Greenroom at the Primetime Emmy® Awards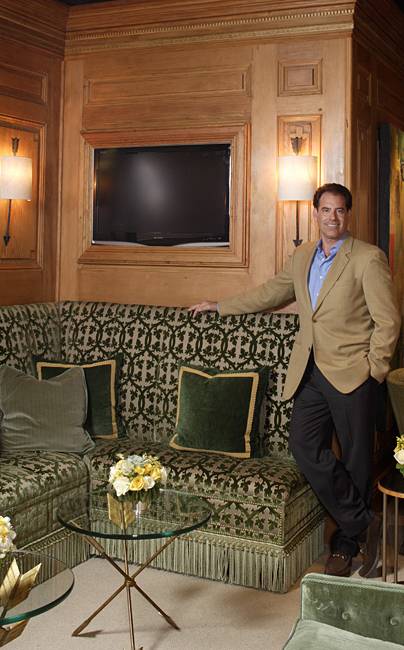 Timothy Corrigan Home Collection Golden Arrow Tables featured in the 2007 AD Greenroom at the Primetime Emmy® Awards