09/16/2009 World Market Center Designer Forum Uncovers Next Season's Hottest Trends
FOR IMMEDIATE RELEASE World Market Center Designer Forum Uncovers Next Season's Hottest Trends:From Mixing Metals to Ethnic Patterns to Raw Materials,Las Vegas Market Reveals it First (LAS VEGAS)Sept.16, 2009. Always "Ahead of the Curve" World Market Center Las Vegas today offered an exclusive preview of next season's hottest home design trends during its inaugural September Las Vegas Market when three of the nation's leading designers presented their top picks on the Market's interactive webcast and live panel discussion. Ahead of the Curve, an intimate designer dialogue, featured Timothy Corrigan, Laura Kirar and Vicente Wolf, alongside moderator Susanna Salk, a style guru and Today show contributor.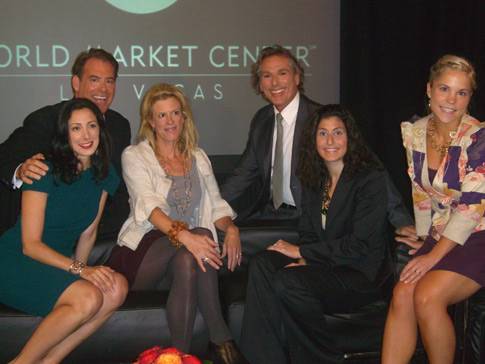 "The trends revealed at Las Vegas Market are just a taste of what is energizing our industry, said Robert Maricich, President and Chief Executive Officer of World Market Center Las Vegas." "They represent a freshness, a new way of thinking and delivering design to the world. These pieces and looks will set the stage for what will be in demand for the months ahead." After perusing 5.1 million square feet of showrooms located throughout three inter-connected buildings, which contain more than 1,400 exhibitors product lines, the design experts discovered many distinct and noteworthy trends. "It's always exciting to uncover stand-out pieces and identify trends," said Susanna Salk, design expert and Today show contributor. "Las Vegas Market offers something for everyone, whether it's upscale floor coverings to chic furniture or affordable decorative accessories, it's easy to find many items that reflect various styles." "One of my design principles is to mix classic with modern, so I'm thrilled to see that trend embraced and shown at Las Vegas Market," said Timothy Corrigan, who was hailed as "Today's Tastemaker" by Architectural Digest. "In my work I always try to incorporate the handmade and the handcrafted. It's wonderful to see that the work of the artist in design has become an important trend," said Laura Kirar, founder and creative director of TRU Design and Laura Kirar Design Licensing. "To deal with the present, you have to understand the past. My focus in design has always been to introduce a worldly aesthetic to spaces that are comfortable yet stylish. I am happy to see that this is a trend that is finally taking hold," said Vicente Wolf, who was named by House Beautiful as one of the 10 most influential designers in the United States. The Trends Revealed: Into the Woods From over-scaled, unfinished wooden vessels, to dining tables created from lychee wood to floor coverings woven with wooden tiles, the trend is to take one of the world's most basic and natural elements and create something extraordinary that can be used in everyday life. Unconventional Concrete Not just for industrial use anymore, concrete is taking new shapes inside and out of residential spaces. Creatively designed and stained, concrete as a material is found in dining and living rooms, whimsical outdoor furniture and even residential console sinks. Sculptured Sheen Sculpted lines framing pieces with a glossy finish make up one of next season�s trends in design. Incorporated on bed posts, dressers and small tables, the juxtaposition of traditional forms to clean cut lines bring a sense of the past to the present time with a modern twist. Mixed Metals Gone are the days when metals have to match. Mix shiny and matte, mercury and mirror, or chrome with nickel to achieve a curiously bipolar look. Mixed metals are appearing on dining buffets, tables and decorative accessories like candlesticks and vases. Trendy Turquoise Though turquoise is ancient, yet again it finds itself back in fashion. Its shining sky blue is one of the most popular color trends for next season. Sofas, lamps, vases, accent tables, and even chandeliers are designed in the color turquoise, which adds a punch of color to any space.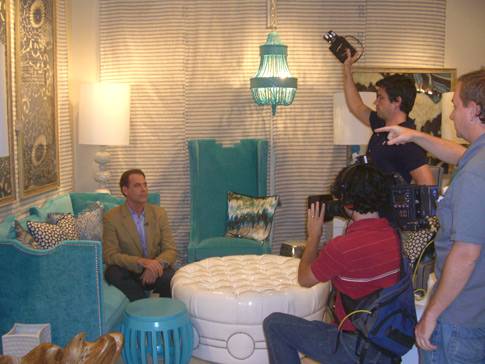 The Natural World Many designs seen at Market celebrate the pure and organic shapes and textures that come directly from the source: Mother Earth. Driftwood sculptures, raw linen shades, unfinished wooden lamps all represent a need to return to simplicity. Unexpected Elements Expect the unexpected with a new trend that pairs classic with modern, raw with smooth and polished with satin. A raw slab of wood with organic lines coupled with modern chairs can create a provocative dining room. Juxtapose a classic wingback chair with a contemporary metal and glass table. The end result is a modern, elegant and fresh look that both is timeless and current. Ethnic without Borders The essence and flavor of the world comes alive in this trend involving patterns, textures and materials. Next season's accessories reflect an ethnic quality absent of a border or distinct origin. Whether it's a vintage throw or an exotic outdoor market umbrella, the destination may be unknown but the feeling can't be denied. New Energy. New Look. Smoke and mirrors are no longer the only way to create an illusion and change the look of something. Two effortless ways to draw new energy and generate different moods in a space is to use screens and mirrors. Whether they are small or large in scale, colorful or colorless, meant to break-up or unite a space, these timeless accessories are an easy way to update a room and transform its look. To view an archived version of Ahead of the Curve, log onto www.lasvegasmarket.com/aheadofthecurve About World Market Center Las Vegas World Market Center Las Vegas is an integrated home and hospitality contract furnishings showroom and trade complex in Las Vegas. In July 2008, when Building C opens, World Market Center will stand at more than five million square feet of space, exceeding the size of any trade merchandise mart in the United States. When fully built, at 12 million square feet in 8 buildings, World Market Center will be the largest trade show complex in the world. The $3 billion, state-of-the-art campus will showcase furniture, decorative accessories, gift, lighting, area rugs, home textile and related segments, as well as the Las Vegas Design Center (LVDC), open year-round. # # #