The Los Angeles Times, January 2004
Source: The Los Angeles Times
Author: Author Lynn Morgan Photographed by Mel Melcon
Copyright (c) 2004 Los Angeles Times, Special to The Los Angeles Times by Author Lynn Morgan. Reproduced with permission of The Los Angeles TimesFrom the time he was 12, Tim Corrigan was fascinated by this house.He grew up five blocks away in Hancock Park, in a neighborhood of grand estates, but this one was something else entirely. It looked like no other home he'd ever seen -- a pillared Beaux Arts mansion that was more like a museum, or even the White House. A place that radiated too much history and grandeur for ordinary life, where you just knew that behind those black iron gates, great things have happened.In fact, the house was home-away-from-home to countless dignitaries and artists for almost a century. Four U.S. presidents slept here, and Rachmaninoff and Van Cliburn sat at its vintage Steinway. It is still, without doubt, one of L.A.'s grandest homes.When he heard it was for sale decades later, Corrigan, a designer and architectural historian, bought it instantly."I had been here once for a party, as a child," he says. "Another visit wasn't necessary."Even for someone with Corrigan's background, the place had an imposing pedigree. It was built in 1911 for Dr. Peter Janss, the turn-of-the-century land baron. The designers were partners of architect Julia Morgan, who designed Hearst Castle. In the 1950s, the house was acquired by ,i.Los Angeles Times' Publisher Norman Chandler and his philanthropist wife, Dorothy Buffum Chandler, creating an aesthetic, if not spiritual bond between the two great newspaper dynasties.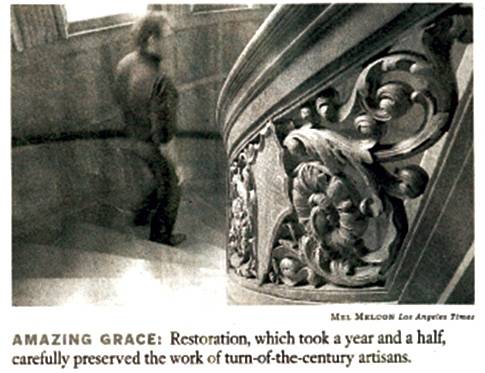 Wide, imposing concrete steps lead to the front entrance. Inside, the rooms are adorned with the works of Francois Boucher and Peter Paul Rubens and enough antiques to fill a coliseum. And yet, Corrigan has made this a place where you feel comfortable enough to put your feet up and relax.In their day, the Chandlers transformed the estate into both a beautiful private home and a glittering showcase for a city just beginning to emerge as a cultural center. During this era, it served as an unofficial Western White House: Presidents Eisenhower, Kennedy, Johnson and Nixon were all frequent guests.The house, playfully christened "Los Tiempos" ("The Times"), was also the command post for Dorothy Chandler's massive fundraising campaign to create the Music Center and later served as its administrative offices. The Chandlers held court for more than 30 years. But over time, there were fewer elegant evenings and grand events; the house grew quietly old. After her husband died, Dorothy Chandler continued to live in the house, mostly in the upstairs quarters, until her death in 1997, when it was purchased by Corrigan."A house needs to be lived in," Corrigan says. "This one had fallen into a state of neglect."It took a year and a half to restore Los Tiempos, to soften its autocratic edges, to modernize it, and to turn it into the home he now shares with Kathleen Scheinfeld, who works with Corrigan on this and other projects.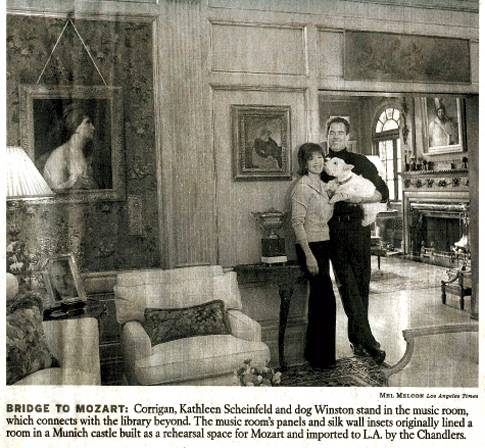 "It was a restoration, not a renovation," he insists. "It's tricky. There's a fine line between a strict historic restoration and a restoration that respects period details, but makes it practical and appropriate for the way we live today. You respect its integrity, but allow it to evolve."Corrigan has an intuitive understanding of the integrity and history of houses. The former advertising executive has wandered the world studying grand homes, living for a time in a Haussmann apartment in Paris and a 17th century Norman castle. He finds an ephemeral quality in old houses that cannot be replicated. "It's as if there's something missing from a brand new house," he says. "There is an emptiness to them, a feeling that nothing has happened there yet, and it's waiting for that void to be filled."And with Los Tiempos, he has resurrected a landmark house, finding poetry in its age, honoring its place in history."The entire service wing was from another era," Corrigan says. "There was a staff dining room, a butler's pantry, silver storage. We took those small, cramped rooms and combined them into a kitchen, breakfast area and informal seating area." It is now a massive, undivided space, bright and casual, the only completely contemporary part of the house.It was Corrigan's restoration of Los Tiempos that led to the creation of his company, Landmark Restoration. To date, the company has done more than 40 projects around the world, with clients who include members of the British royal family and celebrities such as Sarah Jessica Parker and her husband, Matthew Broderick. Corrigan is discreet about his clients, but he will admit, "I spent three years with David Schwimmer, looking for the right property." Madonna too became a client. After offering to buy Los Tiempos, she settled for hiring Corrigan to restore her 1930s Wallace Neff Mediterranean villa in Beverly Hills.Los Tiempos is a persuasive argument for Corrigan's knowledge and taste. The house is opulent, yet not ostentatious; baronial but not overbearing. It wears its past proudly, but doesn't feel like a museum. Seated in the library before a dancing fire, Corrigan enthusiastically points out the architectural elements that make this old house unique: the 12-foot ceilings, its grand yet graceful proportions, the artisans' touches that cannot be replicated in even the most luxurious contemporary design. The woodwork in the room is painstaking and extraordinary: The fireplace surround and ornate moldings are carved into the wood, not applied and glued on."I wanted to create a 19th century gentleman's library," Corrigan says. "After [the gentleman] returned from his grand tour, traveling the world, acquiring antiquities."Corrigan has filled the room with neoclassical obelisks, archeological fragments and other artifacts of ancient pedigree. The 12-foot-long, down-filled sofa -- upholstered in sea green and gold damask -- also has an impressive provenance: Corrigan purchased it from the estate of tobacco heiress Doris Duke, who spent the last years of her life in Falcon's Lair, the former home of Rudolph Valentino. Over the fireplace hangs a painting by Jacques-Louis David, a painter in Napoleon's court. Other important artworks in Corrigan's collection include pieces by Henri Fantin-Latour, Franz Xavier Winterhalter, Carolus-Duran, Angelica Kauffman, Boucher and Rubens.The most historic and formal room in Los Tiempos adjoins the library. The music room is subtly illuminated by recessed lighting and warmed with touches of gold leaf. The Chandlers imported the room from a castle outside Munich. It had been built as a rehearsal room for Mozart."The insets in the walls are hand-painted silk boiserie," says Corrigan, indicating the still-vivid panels of blue silk, covered in pink and yellow flowers. "They're over 200 years old. They're so fragile, they feel like parchment paper. I had to bring in conservators from LACMA to clean them."A vintage Steinway piano is the centerpiece. Purchased from the Chandler estate, it is autographed by a Steinway family patriarch and by many of the renowned musicians who have played it, including Van Cliburn and Rachmaninoff.The only completely contemporary piece is the coffee table, which Corrigan designed. It features inlaid rosewood, burled walnut, ebony, zebrawood, mahogany and malachite. It was inspired by an 18th century marquetry box. "I don't know what it was for -- if it was a humidor or a tea chest, but I liked it," he says with a shrug.He escorts visitors into the living room through a pair of 10- foot green-and-gilt doors painted with flowers and musical putti. It was the most difficult room in the house for Corrigan to restore."The walls were made of travertine marble, left over from the Music Center." He is still amazed at the idea. "It seemed very cold. I came up with the idea of staining it, and cutting it down from huge 10-by-6 sheets into 2-foot squares. Now it looks like limestone and has real warmth."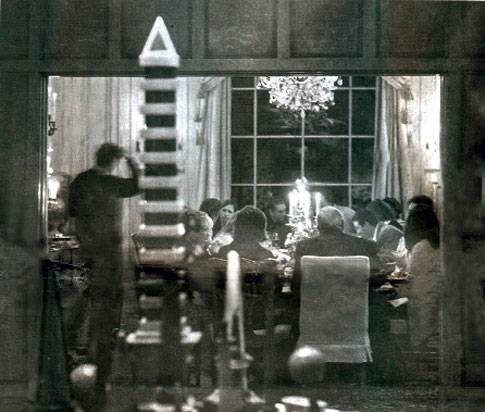 In the dining room, the antique table can seat 22. Corrigan and Scheinfeld use it for dinner parties about once a month and occasional smaller gatherings as well. They also hold benefits for museums and other cultural institutions at Los Tiempos, where such events are part of the home's history. "If a home is a landmark, to not open it to the public is kind of a shame," Corrigan says.Currently, Corrigan is at work on two French projects: restoring a medieval fortress that has been owned by the same family since the 12th century, and converting a 17th century monastery into a private home.He is a surprisingly young man on a Byronic quest to recover lost time, and within his own richly appointed walls, he has succeeded."It's such a special experience to live in a place that is so full of history," he says. "I love hearing the stories of people who visited here, who came to meet Kennedy."Los Tiempos is his sanctuary, and a mystery he hasn't completely solved. "It still has secrets," he says. "It always reveals something new to me."