Los Angeles Times, March 2017
Source: Los Angeles Times
Author: Leslie Van Buskirk
Bath fixtures take a dip into luxury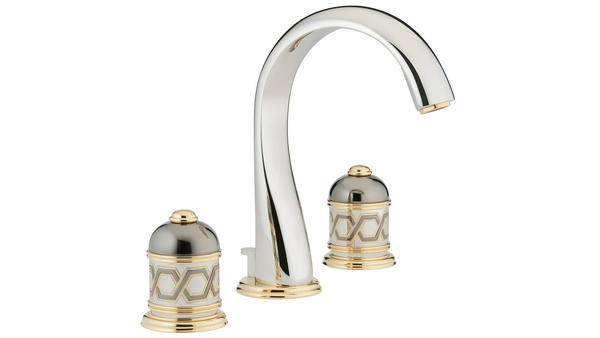 If you find yourself wandering around a bath fixture store wanting to wear some of the products — perhaps on a chunky gold chain around your neck or dangling from a charm bracelet — instead of installing them, you won't be alone.
Cut into crystals, studded with sparkling stones or encased in enamel, the new bathroom bling is a dramatic departure from the plain fixtures of the last few decades.
"Plumbing fixtures are the jewelry of the bath," according to Timothy Corrigan, an interior designer with offices in Los Angels and Paris. "Most fixtures are so utilitarian, but this is becoming a major trend. Bathrooms have become a priority — homeowners really want them to be special, even extraordinary; they want to see something different, something unique that they won't see in a thousand other places."
While such opulence might seem out of place with the simple, modern lines of today's architecture, it's precisely this contrast that makes it pop.
"The millennial generation really likes clean and modern — it's not going away," says DwellStudio founder Christiane Lemieux, author of "The Finer Things," a lush guide to sumptuous home design.
"I'm seeing very minimal interiors in Europe making a comeback — there's a lot of white once again — which is why this kind of luxurious hardware really works. Think of it like a beautiful brooch on a simple dress: It's a subtle touch that doesn't overwhelm but instead, stands out."
Dubbed "the haute couture of bathroom fittings," THG Paris stands out for its opulent contributions to the trend and includes several collaborations.
Thus, rose-hued Daum crystal flowers adorn shower panels, Swarovski baguettes grace Manufacture de Monaco porcelain and platinum towel racks, and jewel-toned Baccarat embellishes taps. (For those with an Adam and Eve fixation, there are even Lalique's crystal apple-adorned faucet sets.)
Jewelry designer Jessica Kagan Cushman's eclectic new take on the trend includes knobs appropriate for bathroom cabinetry featuring semi-precious stones, antler horns, and carved cameos.
High-end retailer Waterworks introduced preppy, tactile pieces incorporating leather and wood into their collection this year, along with 30 drool-worthy lavatory components from sculptor Jill Platner that resemble polished metal rocks.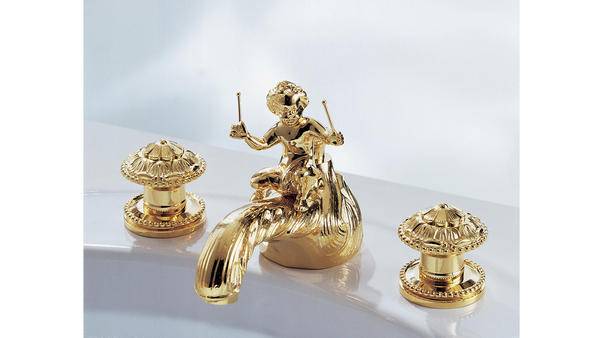 "To me, bathroom fixtures should be a joy to touch — you should go, 'Oooh, I love that,'" says Corrigan, who has collaborated with THG on a new fixtures collection. "In a way, more than anywhere else in the house, the bathroom should make you feel good; it's about pampering yourself and creating an oasis." The designer, not a huge fan of the minimalist look in general ("Sometimes a contemporary home literally seems to look best with nothing in it — like it's designed to be looked at, not lived in. Almost like a haiku"), does not, however, ascribe to the more-is-more school.
"When things match too closely, it looks stiff," he says. "I actually think the best spaces have a mix of different elements and styles, and the same applies here. If you take something rough and mix it with something sleek, it will make you appreciate the contrast."
In other words, if you do decide to posh up the privy, tone down the swankiness in the rest of the house.
As Lemieux points out, conspicuous consumption is not the goal: "If you keep it confined to the bathroom, the design isn't going to get lost."
If you want to take an in-person look at the trend, here are just a few places we like for high-end bath hardware:
Euroconcepts, Pacific Design Center, 8687 Melrose Ave., Suite B121, West Hollywood. euroconcepts.com
Snyder Diamond, with showrooms in Pasadena, North Hollywood and at 1399 Olympic Blvd. in Santa Monica. Snyderdiamond.com
Renaissance Design Studio, with showrooms in Los Angeles and at 22531 Ventura Blvd. in Woodland Hills. renaissancemolding.com
View article on Los Angeles Times