Vogue.com, May 2018
Source: Vogue.com
Author: Elise Taylor
After mid-century modernism's long reign, some drama is making its way back into interior design—like with the resurgence of statement ceilings and chintz, or the return of colors like green and ochre. At first look, fringe fits into this comeback category as well: this spring saw over a 300 percent search uptick for "fringe pillows" and "fringe furniture" on Pinterest—but 2018 fringe is oh-so-different from decades past.
While old-fashioned furniture fringe was, at its best, splendorous, at its worst it could be seen as stuffy. But this new wave, Jonathan Adler says, "is fabulous. It used to seem grandmotherly, but that era is over now—now it seems young, modern, and glamorous."
Take Adler's Topanga Tassel and Topanga Corded Pillows. If this was the fringe of olden days, it would have been placed neatly around the border. But, this fringe is wild, covering the entire surface of the cushion, or in case of the corded pillow, an asymmetrical section. "Almost everything is fair game to be festooned with fringe," Adler says.
As the founder of the design gallery The Future Perfect, David Alhadeff's job is to do exactly what his company name suggests: champion contemporary design. He's seen a number of pieces lately with adventurous trimming: like a sleek, structural floor lamp from Dimore Studio or an industrial mirror by Ben and Aja Blanc with natural fiber adornment that gives it a decidedly bohemian feel. "That kind of gendered idea [of fringe] has been displaced," Alhadeff says. "I think that's great. That mirror doesn't feel like feminine object. Nor masculine, particularly. There's an androgynousness to it." That sentiment is also echoed in Bottega Veneta's latest furniture collection from Salone de Mobile, which featured dark grey and dusty pink furniture with a distinctive fray.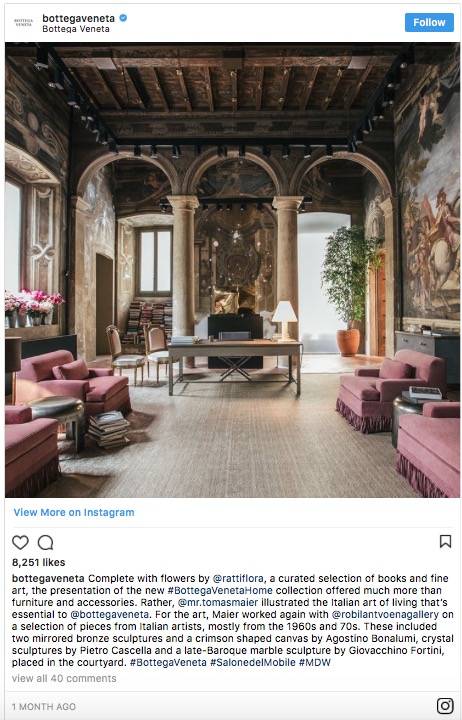 Interior designer Timothy Corrigan has a theory about the new love affair with fringe. "People want more and more things to feel custom and unique, not like they will see it at the neighbor's house. Fringe is one of the easiest ways to take a simple lampshade, pillow, whatever it is, and make it uniquely your own," he says. Recently he's seen it in the usual places, like on couches, curtains, and pillows. But he's also seen it on desks, the seats of chairs, and even a staircase. "People are using it in new and different ways, wanting to make a statement," he says.
So, how does one incorporate fringe into their own home? Adler suggests a gentle touch: "Less is more," he says. "Mix in light and leggy pieces to avoid recreating a Victorian sitting room." Corrigan advises a lampshade for a starter fringe, whereas more adventurous design aficionados can opt for a larger statement piece. After all, who doesn't want to reap some fringe benefits?