Business of Home, September 2022
Source: Business of Home
Author: Caroline Biggs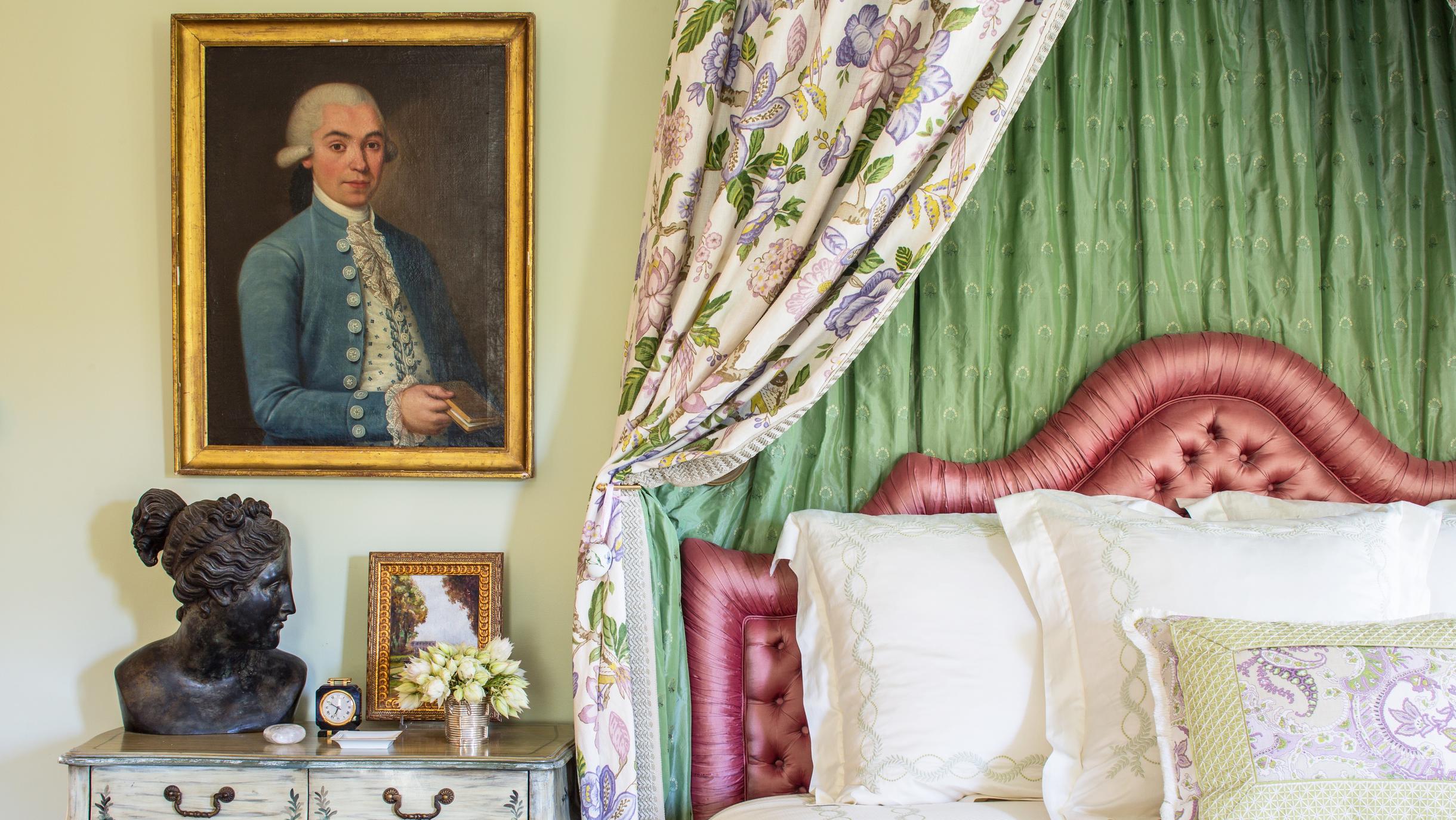 Few aesthetics capture the hot, fleeting allure of summer romance like those found in turn-of-the-19th-century France. Take a walk down memory lane with modern takes on time-tested trends.
Ah, summer love. It's hot, sweet and fleeting. It offers the thrill of the moment and a longing for the past. Few aesthetics capture the ephemera of summer romance like those found in turn-of-the-19th-century France. The period saw the ornamental designs of the late Neoclassical movement reach peak popularity, as well as the rise of the sumptuous motifs that defined the Romantic period. "It was an era in which everything was changing very quickly," says designer Timothy Corrigan, who has channeled the movement's extravagance throughout his career, including in his painstaking five-year renovation of a Loire Valley chateau. "The Age of Enlightenment saw the transition from the rigid yet exuberant style of Louis XIV and XVI to a freer, post-Revolution society."
Though the Neoclassical movement began in opposition to the opulent styles that had reigned supreme throughout the 18th century, it evolved into something that was arguably every bit as over the top. Inspired by the architecture of Imperial Rome and ancient Greece, the Neoclassical designs that emerged in France in the latter half of the 18th century prioritized strict symmetry and lavish ornamentation—giltwood furniture, passementerie trims and sparkling chandeliers galore. But after the French Revolution, a defiant new design movement arose. Romanticism favored creativity and individuality over order and reason, and flourished in France in the first half of the 19th century. Drawing inspiration from the unruliness of nature and raw human emotion, the Romantics believed feelings to be a kind of aesthetic experience, much like listening to a heart-wrenching song or reading a poignant poem. Passion and artistic expression were inextricably linked. As a result, Romantic design motifs were imaginative and ethereal, often translating elements of the natural world—flora, fauna and the big blue sky—into idealized, emotive and atmospheric scenes.
Like today's trends, there's no sharp before and after with these overlapping impulses. Instead, romanticism coexisted with fussier Neoclassical styles. The relationship between the two, and the juxtaposition of their conflicting desires, endures today. "When I look at these styles, I'm impressed by their purity," says designer Alexa Hampton, who famously employs these elements in her projects. "They are eternal and timeless, likely because they pop up over and over again throughout history."
After two years of playing by the rules, it's no surprise that some of today's loveliest market finds pay homage to styles of this otherworldly age. "These motifs have an influence on our designs in every category," says Rebecca Hessel Cohen, founder of the cult-favorite fashion and lifestyle brand LoveShackFancy, whose latest collection is filled with frilly ruffles, pretty pastels and exuberant florals inspired by the decadence of the period.
Of course, incorporating the era's influences into a room isn't always easy. Corrigan says the trick is to pay attention to the particulars. "Adding trim to a simple lampshade or painting the carving of a cabinet in a contrasting color are simple ways to add romantic details that take something from ordinary to extraordinary. They may not be immediately apparent but reveal themselves upon closer inspection," he says. "Isn't that what romance is all about?"
Whether it's a pillow lined in a fanciful row of bouillon fringe or hand-painted chinoiserie wallpaper, classic French design is all about escapism. "The motifs have an old-school sensibility and luxury about them that makes you feel like you're transported to Versailles," says Cohen. "They're delicate yet bold, which creates the perfect synergy."
Homepage image: A Neoclassical bedroom designed by Timothy Corrigan. | Nicole Lamotte
read article on BOH