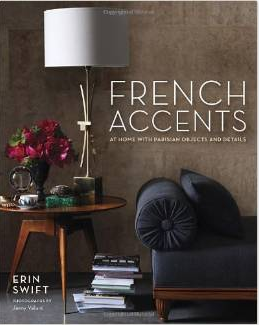 Books
French Accents: At Home with Parisian Objects and Details
Item number: 0000
Timothy Corrigan is featured in this lavishly illustrated volume which shows you how to choose fabulous French decorating details to create interiors with an unforgettable sense of sophistication and charm. French details are the key to achieving the effortless chic of the French home.
The first step is to understand how the French see—blending rich tradition with whimsy to achieve interiors that are as comfortable as they are stunning. Within these pages, acclaimed stylist Erin Swift offers a look at the exquisite homes of renowned designers, architects, and artists, simplifying the elements that define each room, such as color, art and furnishings, objects and accents, structure, and texture. Sharing the homeowner's visions, she also highlights hundreds of fascinating and unconventional decorating details that you can draw inspiration from:
· Hang vintage board games—or a collection of clocks, each set to the time in a favorite travel destination—on the wall
· Balance impressive architecture with slipcovers in primary colors
· Highlight antiques by tucking them into a kitchen or bathroom—and display crystal or a stack of books like everyday sculpture
· Elevate a pitched ceiling or a corner with artwork to make an event out of a space that would otherwise be overlooked
Galleries featuring dozens of choices for molding, stone and tile flooring, frames, paint colors, doorknobs, and textiles offer even more ways to add a French touch.
With a comprehensive resource section, hundreds of photographs that will inspire those on any budget, and countless practical ideas, French Accents is the ultimate celebration of Parisian decorating in all of its ephemeral, individual, and incontrovertible style.
Order on Amazon: http://www.amazon.com/French-Accents-Parisian-Objects-Details/dp/030798530X
inquire about this item