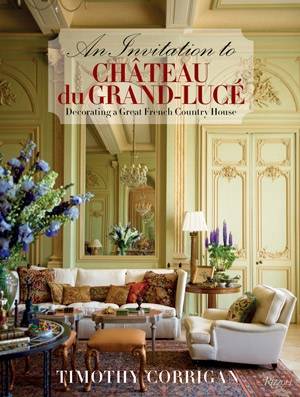 Books
An Invitation to Chateau du Grand-Luce
Item number: TCBook
Timothy Corrigan's An Invitation to Chateau du Grand-Lucé, details his against-all-odds acquisition of an 18th century French National Landmark in the Loire valley, in dire need of repair, and subsequent painstaking restoration and decoration, bringing it back to life as a private home and personal retreat, where he loves to entertain.
REVIEWS
The American designer acquired a storied French country estate in the Loire Valley and decorate it to the nines, leaving out only the snobbery. It's a lovely story by someone living and sharing his dream." The New York Times
"A soulful tribute." - Veranda
"Fabulous, brilliant, a dream." - Diane Dorrans Saeks, The Style Saloniste
"Leaves you feeling as though you've spent a perfect weekend at the grand estate."~Architectural Digest
"A triumph of warmth and beauty."- Deborah Needleman, T Magazine
"Equal parts fantasy and yet completely down to earth." - Susanna Salk, author Priveleged Life
"Filled with beautiful images that ignite feelings of fantasy, envy and escapism all at the same time." - Forbes.com
"This book is a must have!" - BelgianPearls.com
"Even amid all that detailed splendor, the most endearing aspect of Corrigan's magnum opus is this: Far from being a vanity project or a showcase for his design prowess, Corrigan always intended to share his chateau with others. He is nothing if not a gracious host, and I'm already angling for an invitation." - 1stdibs.com
"Perhaps the best part of the book is that we are given a running commentary of why Corrigan has made some of the decisions that he has…After reading the book, one can only wish that the invitation was a real one." - Sarah Hyde, Decorex.com
Corrigan's book goes into detail without sacrificing intriguing candor. That history coupled with capital-M-majestic interiors photos, mean it's really no surprise that the country manse has become a darling for national design magazines since the book's release last fall. -curbed.com
Please specify if you would like an autographed copy. Scroll down to add to shopping cart.
Sorry, we are currently sold out of this book!
Price: $65.00
inquire about this item