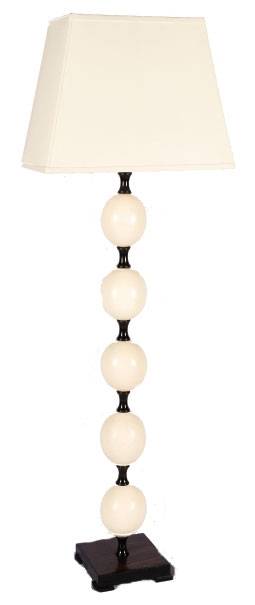 Furniture - TC Home
Macassar Ebony & Ostrich Egg Lamp
Item number: TCHa0016
This extraordinary ostrich egg lamp can't help but be the star of any room, just as it was when we designed it for the 2007 Architectural Digest Green Room at the Primetime Emmy® Awards!

Since they were first taken back to Europe in the 17th century, ostrich eggs have been prized for their natural elegance and as a symbol of rebirth. Mounted on a beautifully designed Macassar and ebony wood base, each egg is separated by an ebony spindle shaped disc that lets the individuality of each egg shine through. It is topped with an elegant cream-colored square lampshade with two light fittings and a brown silk cord.

Illuminate your great sense of style, as well as any room by pairing two on either end of a long console table, or on a pair of tables or chests flanking an entrance way. Because of their height, they will serve equally well as floor lamps or anywhere that you need to make a strong design statement. We have mixed them with either antiques or in the most contemporary of settings.
Custom sizes are also available upon request.
Dimensions
Height: 60 1/2" (including shade)
Width: 9"
Depth: 9"

Shade
Height: 15 1/4"
Width: 20"
Depth: 11"
inquire about this item