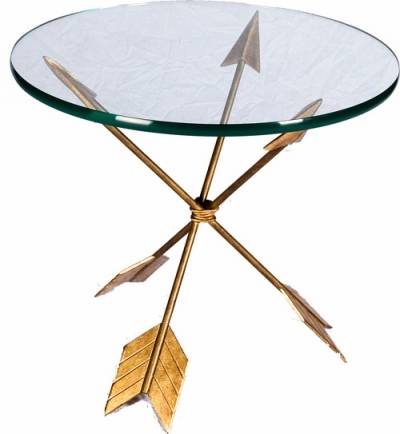 Furniture - TC Home
Golden Arrow Table
Item number: TCHf00018
Since the earliest of times the arrow shape has been incorporated into interior design. During the French Louis XVI and Directoire periods the arrow shape has been a staple of furniture design. It became all of the rage again during the 1930's and 40's throughout Europe. The simple elegant design of three arrows tied together at the center to form a tripod is the base for the round glass top perched on arrow heads.

We designed these tables for the Architectural Digest Green Room at the 2007 Primetime Emmy Awards where they were a huge hit amongst television's biggest stars! They are perfect grouped as a pair for cocktail tables, or as side tables next to an armchair or sofa. Because of the classic clean lines, these tables can be integrated into just about any setting, from the most traditional to the most stark and clean of contemporary rooms.
Custom sizes are also available upon request.
Height: 21 1/2"
Diameter: 24"
inquire about this item